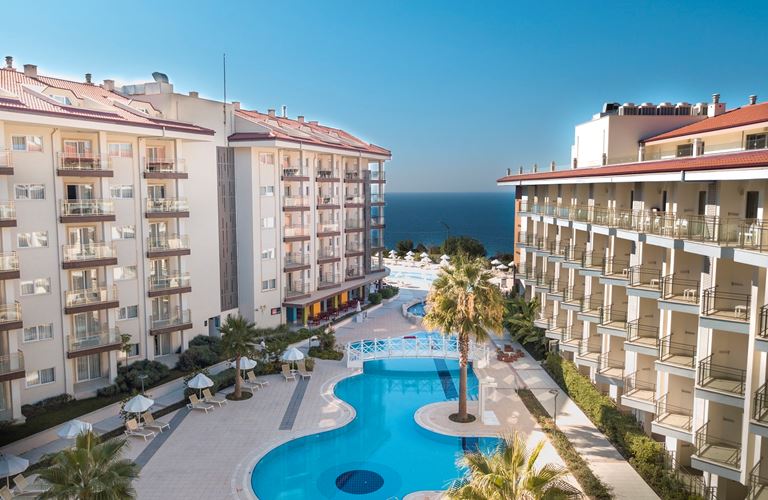 Ramada Hotel & Suites By Wyndham Kusadasi
1174 reviews
(Based on 32 customer reviews)
Exceptional experience st this hotel, staff went above and beyond to help and assist, you waited for nothing, well staffed with their approach being courteous and helpful at all times, one of the best hotels I hzve stayed in bor a long time

Mary from Curry, Tubbercurry, checked in Fri 22 Sep 2023
Hotel Information
Spa with Turkish bath and sauna
1 serene swimming pool and aqua park
About Ramada Hotel & Suites Kusadasi
Ramada Hotel & Suites Kusadasi is a four-star luxury resort, complete with two outdoor pools, one outdoor kids pool and a spa with tranquil Turkish bath and sauna. Just 2km away lies a beautiful sandy beach, complete with sun loungers and sun umbrellas, as well as local Turkish meze restaurants and a handy supermarket. The five-story resort sits on a stunning clifftop, overlooking outstanding views across the glistening Aegean Sea. The hotel also has a quick shuttle bus to the beach, as well as kids club, where little ones can fill their days making arts and crafts, while Mum and Dad enjoy some well-deserved relaxation. Entertainment wise — you've got everything from daily DJ parties, to live music, mini disco and fun-filled bingo nights. But if you prefer to unwind, head down for a treatment at the new spa or try out the latest equipment at the fitness salon.
Who Is It Great For?
Ramada Hotel & Suites by Wyndham Kusadasi is an ideal resort for families with young children. There is a wealth of entertainment on offer, including an incredible fire show and circus dance show for everyone to enjoy. If you're looking for friendly service, indulgent a la carte dining and comfortable, spacious accommodation this hotel beats the rest.
At a Glance
2km away from sandy beach
A handy shuttle bus to and from the beach
Located 60 minutes away from Izmir Airport (ADB)
Facilities
1 water slide pool for adults, 1 splash pool for kids
Terrace area with sun loungers and parasols
Restaurant and Bars
Trilye Restaurant
Dinoysos A la Carte Restaurant
Sunset Snack Bar & Restaurant
Aqua Bar
Beach Bar
Liberty Lobby Bar
Entertainment
Play area
Mini club
Day and night entertainment
Amenities
Spa with sauna, Turkish bath, massages, and gymnasium
Shops
Garden
Market
Elevator
Car Rental
Heating and Cooling of General Areas
Reception
24 Hour Check-in service
24 Hour Reception Service
Business Amenities
Other Facilities
Laundry service
Car Parking facilities
Local Area and Things to Do
Kusadasi is set on Turkey's west coast, with breathtaking views of the crystal blue Aegean Sea. Culture vultures will love exploring the ancient treasures in the nearby historic city of Ephesus. If you fancy something low key, take a wander around Kusadi's charming old town. The cobbled streets are lined with traditional Turkish restaurants and buzzing bazaars. One of the most popular is the Grand Bazaar — try your hand haggling for precious jewels or gorgeous garments. Otherwise, spend the day lounging on one of the golden sandy beaches with a cocktail in the scorching sun. You'll find plenty of family-friendly activities like banana boats or horse riding for you to take your pick from!
Food and Drink
Trilye restaurant serves incredible international buffet breakfast, lunch and dinners.
Sunset Snack Bar & Restaurant is the best place to unwind with a drink, and a menu of scrumptious snacks is served between 12:30 – 17:00 next to the peaceful poolside.
Dionysos A la Carte restaurant is famous for its delicious seafood, Italian cuisine and Turkish kebabs offer an indoor and outdoor dining in different evenings.
Liberty Lobby Bar combines chic with comfort and serves a range of local branded alcoholic and non-alcoholic drinks free of charge between 10:00 and 00:00 when you book All Inclusive.
Aqua Bar offers draft beer and non-alcoholic local beverages and some snacks when have fun near aqua park from 10:00 and 17:00.
Beach bar is the ultimate place to unwind with a drink, next to the blue flagged beach.
Hotel Features
290 luxurious rooms
Lift access
Free Wi-Fi
Overview of Rooms
All rooms have been designed with relaxation in mind — from the elegant furniture to the smart neutral tones, which create an element of harmony. Guests can choose from Superior Rooms, Junior Suite Rooms and Family Suite Rooms. All rooms have gorgeous balcony with land views, lateral sea views or sea view options. Superior rooms have double or twin beds as well as a generous vanity mirror and openable sofa bed, in 34m². Junior Suite Rooms are a great option for families with kids, with one bedroom featuring a double bed and one living room with a large openable sofa bed, in 53m². Family Suite Rooms offer plenty of space, with two bedrooms, one living room and two bathrooms. In addition, there are double beds, twin beds and an openable sofa bed for maximum comfort. Every room is designed to make you feel home away from home.
Disclaimers
Information based on previous season and could be subject to change.
Bar and restaurant opening times may vary based on the season.
Facilities