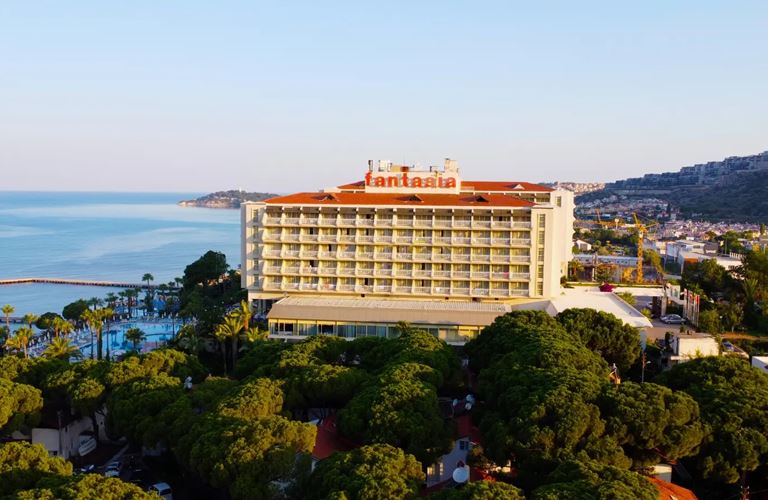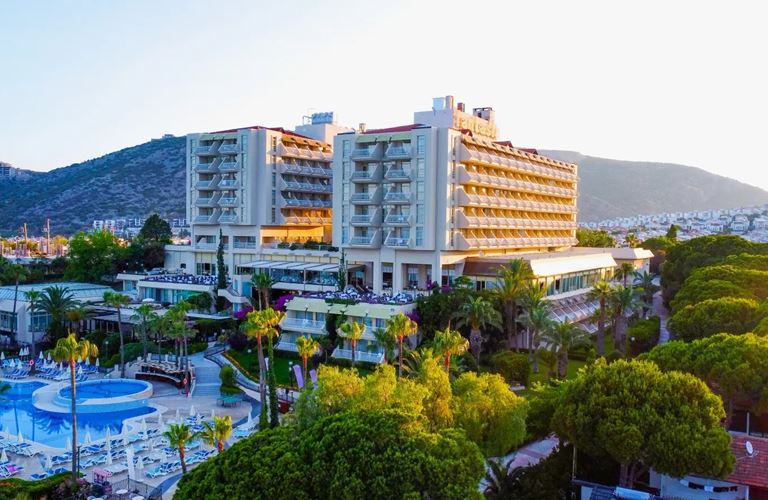 Fantasia Deluxe Hotel
3491 reviews
(Based on 286 customer reviews)
All staff amazing we have been to this hotel twice a year for last 16 years and there is very little turnover of staff. internet good if you pay for it £9 a week worth every penny, good entertainment, good choice of food available almost all day, only downside air-con not very cold

John from Castleford, checked in Fri 20 Oct 2023
Hotel Information
Fantasia Hotel De Luxe Kuşadası which is located in the distinguished district of the Aegean region, Kuşadası, serve the guests with is world standardized quality and its location close to antique city's Ephesia, Priene, Miletus, Didyma, and church of Virgin Marry House.
Eight Floor main building that attentively constructed to preserve the natural structure, meets with pebble beach that prized with Blue Flag certificate which is the guarantee of clean sea and clean beach.
Fantasia Hotel De Luxe Kuşadası gives you choices full of entertainment like is a beach
150 meters long, its wharf which yachts 2 meters of depth can approach, swimming pools and indoor heated swimming pool which can be used both in summer and winter.
Outdoor swimming pool 650 m2 and 332 m2; children swimming pool 7 m2, Indoor heated swimming pool 342 m2 with children section. Chaise lounges, mattresses, and umbrellas on a beach and swimming pool free of charge.Accommodation
Fantasia Hotel De Luxe Kuşadası; at service of elite guests to meet their comfort and quality expectations on the highest level with 270 standard rooms(3 handicapped rooms incl.),1 honeymoon suite, 44 trp rooms,6 junior suites, 8 senior suites, 4 connection rooms, 2 presidential suites; all told 335 specially designed privileged rooms.

-Standard Room: Standard rooms have a sitting group and a bath in addition to a bedroom that has an option as two twin beds or one French bed.

- Corner and Triple Room: Corner rooms are larger than standard rooms which have one French bed, one single bed; or 3 single beds also with a sitting group and bathroom.

-Junior Suites: The bedroom that one French bed connected to a bathroom and living room that also shaped with the sitting group.

-Senior Suites: Senior Suites has a special bedroom with a bath, two toilets, and a large living room. In the bedroom, there is a double bed and inside the room is a special bathroom with both a bathtub and shower.
Central air conditioner, key card system, direct telephone, internet connection, safe deposit box, satellite TV, music, hairdryer, carpet, fire informing system, telephone in bathroom, all rooms bathtub.
All rooms are nonsmoking rooms and 3 handicapped rooms for handicapped guests are reserved.
Please note: The published prices are based on Customers Residing in and/or Travelling from the country in which they booked their accommodation/holiday. Non-residents may incur additional charges on check-in depending on their country of residence as detailed in the booking conditions/notes. Proof of residency may be required.
Facilities