Benidorm
Dates · 2 Adults, 1 Room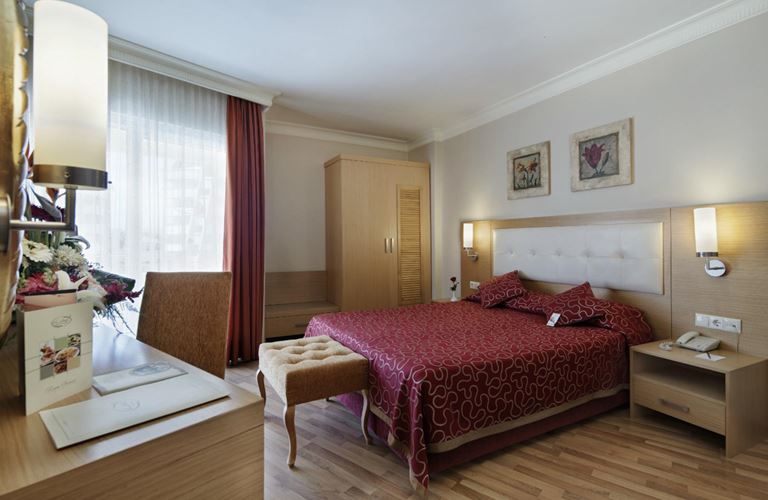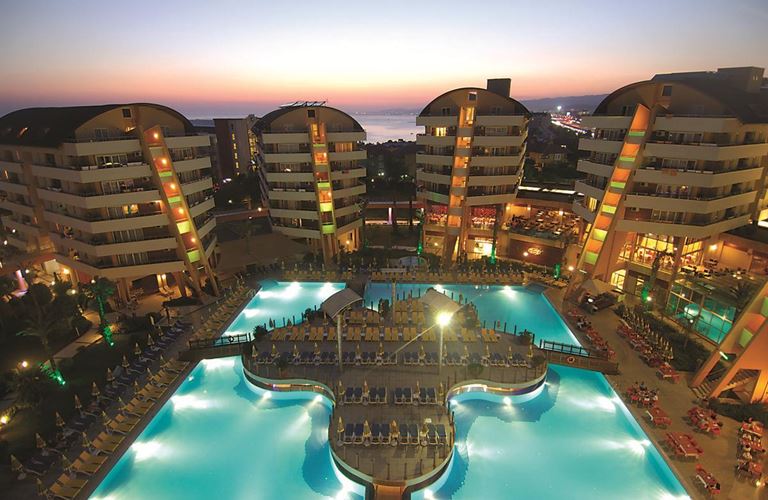 Alaiye Resort & SPA
(Based on 6 customer reviews)
Hotel Information
OVERVIEW
Alaiye Resort and Spa is located just off the beach on the coast of Alanya. It is situated 20 km from Alanya city center and 105 km from Antalya airport. This room has one double and one single orthopedic beds. Room Facilities: Balcony, Sea view, Telephone, Satellite channels, Flat-screen TV, Safe, Air conditioning, Heating, Wardrobe/Closet, Shower, Bathtub, Hairdryer, Free toiletries, Toilet, Bathroom, Minibar, Wake-up service, Towels, Linens.
Room Size: 26 m² Bed Size(s): 1 twin, 1 full. All meals are available. This is a modern building. This accommodation has a large lobby. Easy access to the delicious variety of food at several on-site restaurants and absorb the lively atmosphere in one of the many different bars.
Facilities
---
Our customer reviews
Michaela, Newport
Checked in Tue 07 Aug 2018
Everything was perfect !!! Very nice holiday !
---
Thio, London
Checked in Tue 08 Dec 2009
What a disaster. I normally travel to different parts of Turkey frequently and always check reviews online first before booking online. This hotel has to be the most badily run overated hotel I have ever been to. Its also the first time that I have found online reviews to have let me down. I would only recommend this hotel if you want to be in a turksh faulty towers surrounded by the contents of a poorly run german nursing home- with appalling service and quality to match. charge for inroom safe 2 euro per day- yes there is a hotel safe but they wont let you use it and make it very clear if you dont pay 2 euro a day for an inroom safe, then if anything happens they are not responsible. want to use the sauna or outdoor swimming pools? charge for towel 1 euro per towel per day. This is just a sample of way this hotel is run and unlike any hotel i have ever been to in Turkey. The location about 5 to 10 minute walk from a small beach so not really a resort as the name implies. the hotel is located on the edge of the main 4 lane section of the Antalya to Adana highway so not very quiet. food is generally terrible. breakfasts werent bad when the chef turned up and decided he would lower himself to cook some eggs! however breakfasts were identical everyday. normally a 5 star hotel would have some variation. selection wasnt great either. lunch and dinner were identical so if something was left they just kept it until dinner. each day lunch and dinner were more or less the same during the 3 days i was there. the spread was very poor and varation was non existant. what was worse was that quite often the food tasted obviously recooked from earlier. the food was bland and the desserts were like eating cardboard. generally few of the desserts were eaten so they just kept them for show every lunch and dinner and didnt add anything new! the owners and staff seemed to be watching your every move in the dinning area so it didnt feel relaxed. if only they provided some service or drinks as it was all inclusive supposedly. Generally staff had a terrible attitude problem with the exception of the bar staff which were generally friendly. the rooms were kitted out in ikea style and they were equipped with soap, body lotion and shampoo. despite numerous requests these were never replenished during my stay. not exactly what you expect from a 5 star all inclusive resort and spa hotel. as a comparison this is the most expensive all inclusive 5 star hotel i have stayed at in turkey and was by far the worst. its like a modern 3 star with 1 star service. the rooms also have no sound insulation. i had to be moved on the first night and just gave up after that. you could here the converstions word for word next door. it was reminiscent of when staying in a youth hostel. dont be suduced by their website. there are plenty of good hotels in turkey so just go elsewhere. i booked this hotel because of the price and online reviews. there were many stunning 5 star hotels along this stretch of coastiine with beautiful beaches. the beach near this hotel was small. just see some other rviews i have left on here. this is the only negative feedback i have left for anywhere todate! ps there indoor sauna and gym etc werent bad but the maintenance was appalling with a number of broken items- which considering its 5 years old wasnt great. I couldnt wait to leave this place as it was so bad. a number of guests looked a bit unwell which could have been down to the poor food hygiene.