Hurghada
Dates · 2 Adults, 1 Room, Economy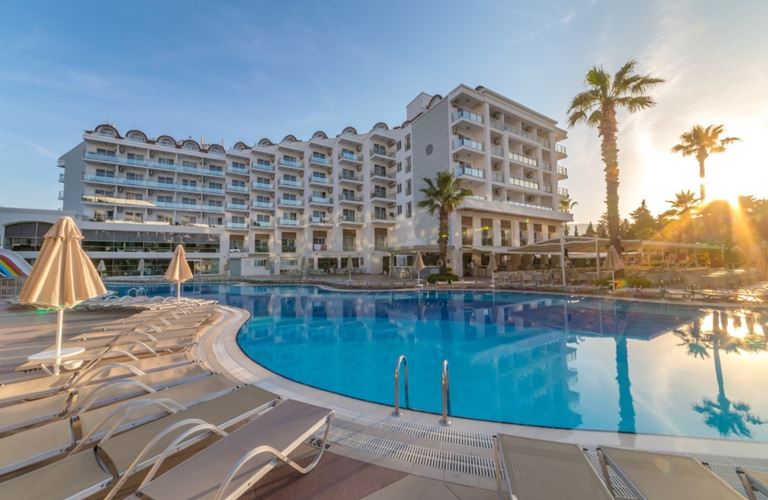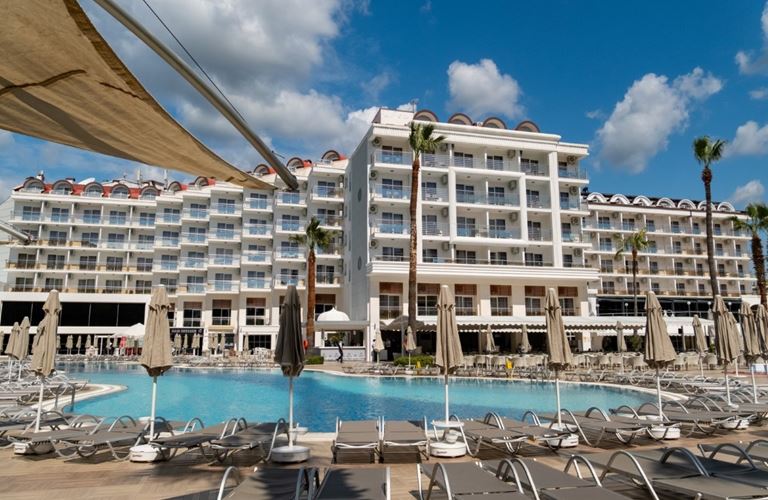 Ideal Grand Premium
(Based on 22 customer reviews)
Excellent hotel, staff are great, wide variety of food. Good location shops, restaurants and beach all a short walk. Children's entertainment very good and the entertainment staff do a very good job.
Paul
Checked in Tue 04 Apr 2023
Hotel Information
OVERVIEW
Refurbished for 2015 partially refurbished 2018, Ideal Grand Premium offers modern rooms coupled with a comfortable atmosphere. With our modern and elegant concept, our goal is for our valuable guests to have a unique holiday experience and as IP Hotels, we wish you a pleasant holiday.2.5 km to Resort center. 1 km to the seafront nightlife. 10 mt to the nearest restaurants and shops. 50 mt to a sand-shingle public beach.
ROOMS
There is a daily housekeeping/cleaning service during your stay. Please put the 'do not disturb sign on your door when you do not wish the cleaning service for your room.
Every day millions of gallons of water are used to wash towels that have been used only once please help us make a difference in saving water and reducing the use of detergents in our environment.
A towel hanging up says 'I will use again, a towel on the bathroom floor says 'Please exchange'
Mini-bars are restocked with water and juice two times per week
Dial '9' on the telephone for Reception
Activate your telephone for outside calls – charged as an extra for guests - enquire at Reception for information
Check-out time for all rooms is 12.00 (midday) unless a late check out has been arranged
Room cleaning: Daily
Linen Change: Every 3rd day
Towel Change: Every 2nd day & When required

Standard Room
(20 m² )
(4 Disabled )
2 Single or 1 French Bed. 20" satellite TV, telephone, minibar, split air-conditioner
(cooling and heating), Tile & parquet floor, bathroom with shower, WC, hairdryer,
safe box. All rooms have balconies, terraces,s or French balconies. Some rooms with
pool, garden, road, or building view.

Reception
Reception is at your service for 24 hours to respond to your requests in Turkish, English, and Russian. You can reach Reception by dialing 9. If you would like to request a room change from our hotel you should contact reception between 10:00-14:00. Rooms cannot be guaranteed as they are dependant on availability.
Check-in and Check-Out
Check-in to our rooms begins at 14:00. Due to this reason, our guests are required to make their check-out at 12:00. The guests can enquire about the availability of a late check out at reception on their departure day. If available there will be a charge to be paid for the room until 18:00 Pm. If not available we provide courtesy shower rooms.
Services & Prices
Laundry service (including ironing service) is available as an extra charge
Laundry bags and price lists are available in the room and also from the Reception
Baby cots are free on request – please enquire at Reception
Photocopy and fax facilities are available as an extra charge – please enquire at Reception
Safe Deposit Box
You may use your room's safe deposit box free of charge. Our hotel does not take any responsibility or liability for lost property which is not in the safe deposit box. Please leave your safe deposit box door open before checking out. Do not leave your safe box key in the room.
Doctor
A Nurse is available for basic First Aid in the Hotel. Monday-Sunday 09.00-17.00. If you require the Doctor please ask the Nurse or Reception. Doctor examination in person or by telephone carries an extra charge to the guest - please confirm the charge before the The doctor is called. Prescriptions were written by the Doctor also carries an extra charge
Pharmacy
There is a Pharmacy local to the Hotel-please ask at Reception or Guest Relations for directions
Indicated by a green cross and called Eczane
The local Pharmacy is open 09.00-20.00 Monday-Saturday
Duty Pharmacy is open on a Sunday and is advertised on Pharmacy Windows.
Please be aware that a pharmacy does not have any authority to prescribe or diagnose an illness due to law. We recommend you to buy medicines which are prescribed by a doctor.
Internet Access
At Grand Ideal Premium, the wifi is free of charge.
To log in, click IPHOTELS-WIFI and enter your room number and the last four digits of your passport.
Pool
The pools are open from 08:00-19:00. After this time they are cleaned and chlorinated each day. Do not use.
There are no lifeguards present-please check the depth markings around the pool edge before use
Supervise all children at all times around the pools – All babies must wear swim nappies\pants.
All guests need to wear proper swimwear to enter the pool
Do not move or reserve sunbeds around the pool- towels are removed by guests doing so
Do not use the White Hotel towels for the pool
The Indoor Pool located in the Spa Center is open from 09:00-18:00 Monday-Sunday. All guests under 16 must be accompanied and supervised by a responsible adult over the age of 18 years
The hotel does not provide any beach facilities
TV Information
At Grand Ideal Premium we have English, Russian, Dutch channels including Sports, News, Music, Cartoons, and Movies
Restaurants
Grand Ideal Premium is an all-inclusive Hotel and food is available self-service buffet style except for the A La Carte
**We DO NOT provide Breakfast or Lunchboxes for excursions or early departure
**Our hotel DOES NOT prepare or serve special food selections for allergics (gluten-free, lactose-free, vegan, vegetarian, etc)
therefore the hotel cannot be held responsible for any complications that could arise.
**Our hotel does not prepare and serve special food selections for babies or children
**Food Court & Open Food Stations may be closed due to heavy weather conditions
A La Carte Restaurant * By reservation only May- September
*Book with Guest Relations as soon as possible to avoid disappointment
Bars & Night Club
Guests under 18 are not permitted alcohol according to the Turkish Law & Guests under 18 are not allowed to enter Blackout Club.
The Hotel does not take any responsibility for guests under the age of 18 consuming alcohol or any injuries that may occur due to alcohol consumption. The closing time for the bars is 00.00 midnight and the Blackout Night Club is 01:00.
All drinks are served in single measures.
Alcoholic beverages will not be served between 01:00-10:00.
The hotel has the right not to serve alcohol to the guests who disturb others, in under the influence of excessive alcohol consumption and behaves unacceptable (aggressive, abusive, etc.) to other guests or hotel staff
Market
Open 09.00-21.00
For all of your holiday essentials, phone cards, extra drinks, and confectionary visit the Supermarket located next to the main pool.
Water Activities
We have a variety of water activities for all ages. We also arrange different activities such as water polo and pool races that appeal to our older guests. Some of our activities are suitable for the whole family, so check out the Animation board for more details of what activities are scheduled for today. There may be age restrictions depending on the activities for children.
Daily Activities
Check out the Animation Board or contact the animation team for all of the times and locations of the Daily activities such as Darts, Billiards, – join in and have fun or support those who wish to join us for the activities
Fitness Centre
Located within the Spa Center on the pool level
Open Monday-Sunday 09.00-21.00
Guests under 12 are not permitted in the Fitness Centre
Guests under 16 must be accompanied by a responsible adult aged 18 and above Dress code for the fitness center (please wear proper
shoes & clothing, bring your towel)
Guests need to disinfect equipment after use. Please contact Spa Reception for disinfection chemical.
There is not a professional trainer; all guests must use fitness equipment at their own risk
Spa Center
Why not begin your holiday with a visit to the Spa Center where our Professional therapists and masseurs are waiting for you to provide you with an all-round amazing pamper, a relaxing massage to ease those tired muscles, de-stress from your flight, and prepare you for your holiday.
Open Monday-Sunday 09.00-21.00 Visit the Spa Center Reception to discuss one or more of the 40 different health and beauty
treatments and procedures and to book your appointment
No guests under 16 are allowed into the Spa unless accompanied by a responsible adult over 18 years
Facilities within the Spa
Turkish Bath-Experience the Traditional Turkish Bath given by the Professional Therapists with scrub and foam massage whilst relaxing on the marble slab. Entrance to Turkısh Bath is free, but foam massage, scrub, and treatments are extra charges.
Massage Rooms-Experience one of the many massages (including Thai, Aromatherapy, Medical, Sports, and Anti-Stress) given by the
Professional Masseur in the relaxing surroundings of one of the Massage Rooms
The Sauna-Begin or end your day with a short relaxing session in the Sauna – All guests must wear swimsuits in the Sauna.
No guests under 16 are allowed entry to the Sauna
Beauty Lounge-Enjoy facial or other beauty treatments in the Beauty Room where Certified Therapists offer the full range of
treatments from Cosmetics whilst using state of the art equipment
Enjoy the Spa Center as single, in couples, groups of friends, or as a family. The staff at the Spa Center reception will help and advise you on your treatments, packages and also with pricing, you may be asked medical questions if necessary to assist the Therapists and
Masseurs with your treatments
The Sauna is free of charge for all guests over the age of 16 to use (between the hours of 10.00-16.00) however availability on places must be confirmed at the Spa Center Reception
Entry into the Turkish bath for a self-administered scrub using own scrub mitts is free of charge however availability on places must be confirmed at the Spa Center Reception
Conference Hall
 Capacity: 300 pax
 3 Hall
 Equipment: Projection, lapel microphone, wireless microphone, flipchart
For the Children
Each evening a mini disco will be held for the children to dance off any energy that they may have left
You and your child\children are most welcome to join in all activities provided for them, you are responsible for them.
For the Family
After your day in the sun, it's time to relax with a refreshing drink from the Pool Bar and enjoy the evening entertainment from life music to quizzes and competitions
Check out the Animation Board for the evening schedule of activities
Photo Shoots
These photographs and videos belong to the hotel and they can be used by the hotel. Photo shootings made by Professional
The photographer inside the hotel is at an extra charge, this photo belongs to the property, and photos&videos are kept by the hotel due to security procedures.
Taxi
Receptionists will assist you in the need for a taxi. Please ask about your destination and the price with the taxi driver before the
trip. Our hotel is not responsible for any problems that may arise between hotel guests and Taxi Company
Local Transportation
You may use the local transportation (Dolmus) to visit the inner city and the local spots. Vehicles pass by the bus stop on the main
road in every 15 minutes.
ATTENTION: SPA, photographer, doctor, and similar services are not related to the hotel administration. Therefore the hotel is
not responsible for the price and quality of services that you may purchase within the hotel.
Check-Out Day
All good things must come to an end so we wish to send you home stress-free and rested. Please share your thoughts with us by completing the Guest Survey Form. You may also share your thoughts on Facebook, Twitter, and TripAdvisor. Please leave your safe deposit box door open before leaving your room, give your room key-card to Reception, settle your bill and keep your luggage in the luggage room.
IP Hotels Management has the right to change any information, data, and content featured above.
Intentional activation of the fire alarm or damage in your Hotel room will be charged to your Hotel bill and you will be removed from the hotel.
You may contact Reception, Guest Relations, or your Travel Agency Representative with your feedback and concerns.
Your feedback is highly valuable to us. IP Hotels wish you a happy holiday.
FOOD OUTLETS
MAIN RESTAURANT BREAKFAST 07:00 - 09:30 * BUFFET
MAIN RESTAURANT LATE BREAKFAST 09:30 - 10:00 * BUFFET
FOUR SEASON RESTAURANT LUNCH 12:30 - 14:00 * BUFFET
MAIN RESTAURANT DINNER 19:00 - 21:00 * BUFFET
*Dress code applies for all restaurants ** No wet clothes and no swimwear only for all food serving areas.
SNACK 12:00 - 16:00 * BUFFET
PATISSERIE 16:00 - 18:00 * Variety of cookies and cakes
LOBBY BAR - CAFE DE PARİS 23:00 - 00:00 * serves cold sandwich
LOUNGE BAR-STATION 00:00 - 07:00 * Serves a variety of cookies
BEVERAGE OUTLETS * All bars are self-service
MAIN RESTAURANT (Dinner) Serves varieties of wine, beer & raki, soft drinks
FOUR SEASON RESTAURANT (Lunch) Serves varieties of wine, beer & raki, soft drinks
LOBBY BAR - CAFE DE PARİS 10:00 - 00:00 * serves varieties of soft drinks & hot drinks
POOL BAR 10:00 - 24:00 serves local alcoholic beverages, cocktails, varieties of soft&hot drinks
PATISSERIE 12:00 - 20:00 serves hot drinks and concentrated fruit juices
CLUB BLACKOUT COCKTAIL BAR 23:00 - 01:00 serves varieties of cocktails, varieties of wine, and soft drinks
LOUNGE BAR-STATION open 24 hours serves varieties of concentrated fruit juice & hot drinks
The A La Carte Restaurant is open between May and September.
Our A La Carte restaurant is free once per stay and needs reservation from 09:00 till 12:00 by Guest Relations.
It serves a five-course set menu and is served with local alcoholic drinks.
The published prices are based on Customers Residing in and/or Travelling from the country in which they booked their accommodation/holiday. Non-residents may incur additional charges on check-in depending on their country of residence as detailed in the booking conditions/notes. Proof of residency may be required.

JUST SUITABLE FOR FAMILIES AND COUPLES

Unfortunately this property cannot accept mobility scooters
Facilities
---
Our customer reviews
Tahmina, Oldham
Checked in Mon 22 May 2023
Nice hotel staffs are friendly, beach and shops were nearby bus cones to the hotel doorstep every 5 minutes so travelling was no issues. Buffet was great nice variety of foods. Drinks were always available. Rooms were clean but no kettle in room which was a downfall for me since I am a coffee addict and I didnt like the coffee from the machines but hot chocolate was great. Room service was a bit disappointing if u had to phone and order water or anything they take their time coming I had to phone twice each time I phoned but they do come just take their time . At night they have disco just below my room it goes on until 4/5 in the morning so bedtime you have the loud disco music whice isn't pleasant. People come in drunk throughout the night disturbing our sleep loud talking laughing swearing my kids were scared this happened 2 3 nights went on for hours like 5 in the morning. Had to phone reception for disturbance which they should have been handling before. The WiFi was horrendous no WiFi in bedroom had to go downstairs for signal that was weak too. Overall because of the late night loud music and people coming in drunk different times throughout the night disturbing your sleep I wouldn't want to book a room in this hotel again.I came with my children but if u are a young couple and up for late night disco and no wifi then you will like this hotel
---
Christine, Glasgow
Checked in Fri 28 Apr 2023
Wouldn't stay again as rooms are small we were put up in an attic room . Only one bar outside and it was cold at night . We only had one socket in our room and because we had attic room there was low down ceilings and we kept hitting our heads when going into the fridge . The lifts were too long a wait sometimes had to use stairs .
Standard Room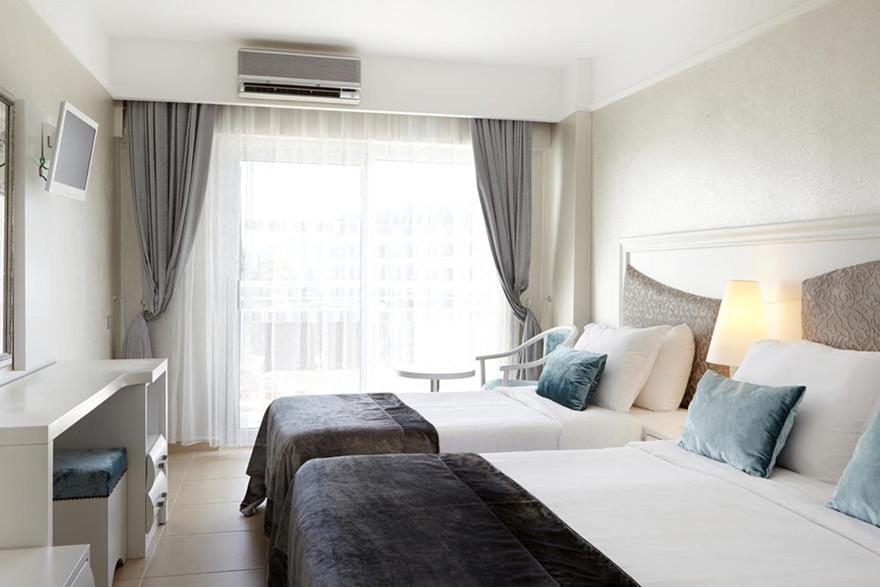 Room area : 20-30 m2
Features : 2 single beds or 1 double bed or 1 double bed and 1 single bed. Laminate or tile floor. Satellite broadcasting LCD TV, room phone, minibar, air conditioner(hot-cold), safe deposit box. Bathroom with tile floor and a shower cabin, WC, hair dryer. All rooms have balcony. Rooms have pool and buildings view.
Capacity : Maximum 3 adults or 2 adults+1 child
Large Room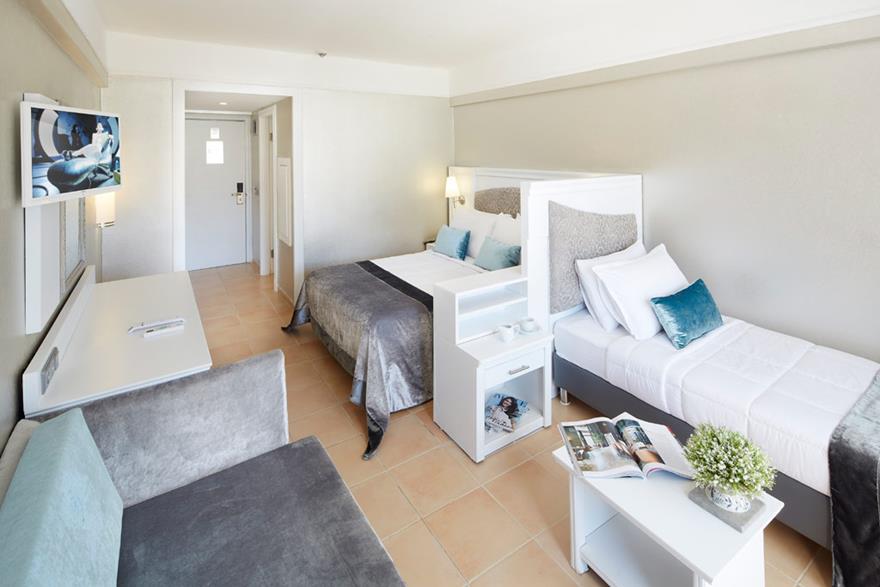 Room area : 30-40 m2
Features : 1 single bed and 1 double bed + sofa bed. Laminate or tile floor, satellite broadcasting 20'' LCD TV, room phone, minibar, air conditioner(hot-cold), two seater sofa. Bathroom with the floor, a shower cabin, WC, hair dryer. All rooms have balcony. Rooms have pool and road or building view.
Capacity : Maximum 3 adults or 2 adults+1 child