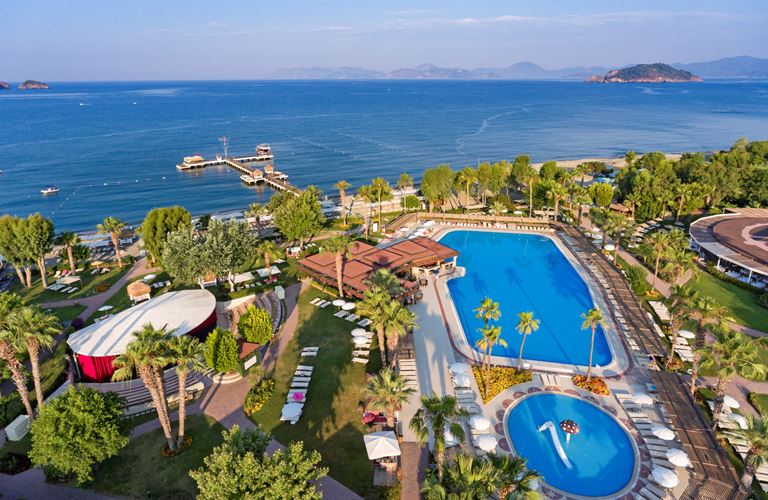 Club Tuana Fethiye
4581 reviews
(Based on 428 customer reviews)
Amazing hotel. Great ultra all inclusive with premium branded drinks and cocktails. Made off the menu cocktails with no problem. 24 main bar. Staff excellent. Bus and taxi rank outside hotel gates. 45 lira for bus or £15 taxi into Fethiye.

Benjamin from Worthing, checked in Sat 14 Oct 2023
Hotel Information
This complex enjoys a stunning setting on its own sandy beach in Fethiye. The complex is located close to the riverside resort of Dalyan. Guests will find themselves within easy access of a number of attractions in the area, and can enjoy a host of activities nearby. Links to the public transport network can be found close to the complex.
This wonderful complex is set amidst 120,000 metres squared of land, surrounded by orange and frankincense trees. The complex comprises a main buildings and separate blocks. The rooms are beautifully designed, offering the perfect setting in which to enjoy a relaxing holiday. Guests are invited to avail of the many first-class facilities and services that this superb complex has to offer.
LOCATION
Club Tuana Fethiye, serves with ultra all inclusive system and offers beautiful nature with orange gardens, frankincense trees, very well kept land escape in a 120.000 sqm land just by the beach. It's a 5* Holiday Village with a distance of 17 km to Fethiye city center and 42 km to Dalaman airport.
GENERAL HOTEL INFORMATION
Club Tuana is built on 24 nicely placed accomodation blocks. Lobby, Reception, Exchange, Safe Box, Indoor and Outdoor Restaurants, inclusive Specialized Restaurants such as ''İvriz - Sea Food & Fish Restaurant'' and ''Ristorante Roma - Italian Cousine'', exclusive ''A'la Carte Restaurant - Kebab House'' with an entrance fee, Bars, (Lobby Bar , Pool Bar, The Bar, Palm Bar, Zoo Bar, Poseidon Bar, Disco Bar), Open air Disco, Internet Service, Shopping Center, Hair Dresser, Photo Shop, Turkish Bath, Sauna, Rent a Car, Laundry Service, Ironing Service, Game Room, TV Room, Conference Hall. There is an extra large swimming pool, kids pool and water slide pool with 3 runways. Kids favorite zoo, large sunbathing area, and Amphitheater with 600 pax capacity. Infirmary service is available with an extra charge and available 24 hours.
Tuana Park offers, adults pool and children pools, Snack Bar (Snack Bar serves all day long). Distance to the beach 250 mt. Club guests can use Park facilities, Park guests can use Club facilities as well.
ROOMS
Total 521 comfortable rooms, 426 Club rooms offer; Bathroom with bathtub, WC, Safe , Central Heating/Cooling A/C system , hair dryer, telephone, LCD Sat TV, Music thru TV, Mini Bar and a balcony. 95 Park rooms offer; Bathroom with bathtub and/or shower with sliding door, WC, Safe , individuel unit Heating/Cooling.Our Family Rooms consist of 2 bedrooms and 1 bathroom. Room entrances may vary depending on room design. There is a door between the rooms and a balcony as well.

Please note:The published prices are based on Customers Residing in and/or Travelling from the country in which they booked their accommodation / holiday. Non-residents may incur additional charges on check-in depending on their country of residence as detailed in the booking conditions/notes. Proof of residency may be required.
Facilities