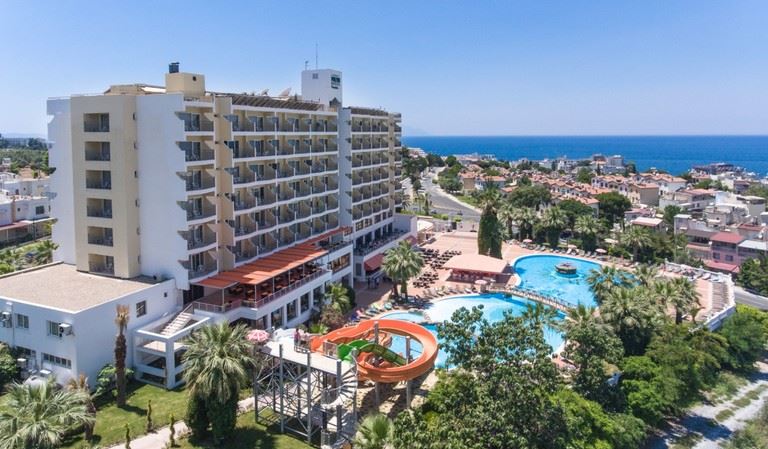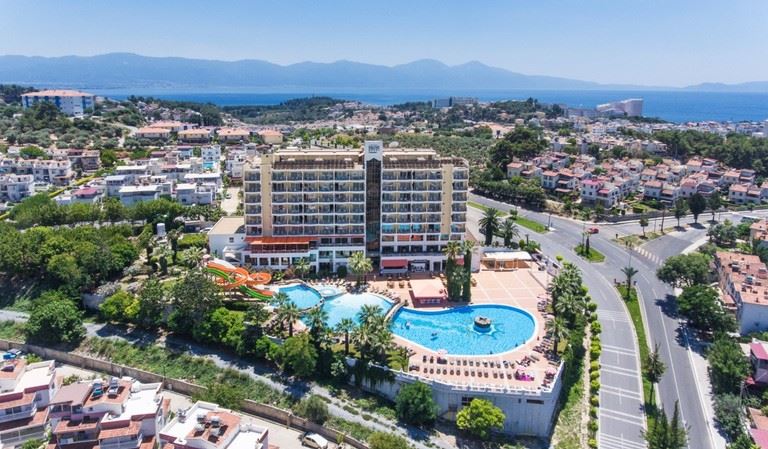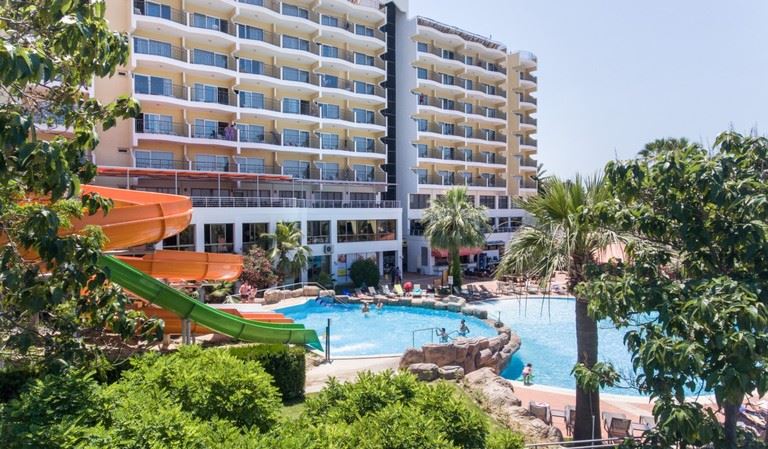 Our Customer Rating
(Based on 43 customer reviews)
Great hotel, Friendly staff Ahmet, Atakan, Oscar and James. Great food, spotless clean. Highly recommend.
Derek
Checked in Sat 11 Jun 2022
Hotel Information
Overview
Only 550 yards from Ladies Beach, Palmin Hotel is located in Kusadasi with air-conditioned rooms. The property includes a large outdoor pool with water slides and a spa centre with a Turkish bath, gym and a sauna.

The cosy rooms are equipped with a satellite TV and a minibar. They also include a private balcony with pool or Aegean Sea views.

Dining options include a buffet restaurant at Hotel Palmin. Drinks are offered by the hotel's bar.

You can play a game of billiards, table tennis or darts. A massage room, hot tub and a wellness centre are available. Free Wi-Fi is accessible in public areas.

Izmir Adnan Menderes Airport is 52.2 miles from the hotel. A shuttle service can be arranged on request at an additional fee. Free private parking is also provided on-site.
---
Our customer reviews
John, Ballymoney
Checked in Sat 07 May 2022
---
David, Northamptonshire
Checked in Thu 10 Sep 2020
After having 4 holidays cancelled (Algarve and Canary Islands) due to Covid 19, we were determined to get away somewhere this year. After checking where was safe to go and didnt involve isolating on return, we decided on Turkey. Been to several places in Turkey previously, but not Kusadasi. We were 4 adults in our 50's travelling together and after quite a bit of researching, settled on The Palmin Hotel. All 4 of us were so glad we did! Absolutely fantastic time was had by all! Hotel very conscious of covid. All staff wore masks, face shields and gloves. Upon entry we had our temperature taken (not just on initial check in, but every time we came back after being out.) Guests were not expected to wear masks while at the hotel. The Palmin is in a great location, 10 minute walk to Ladies beach, but a bit longer to get back! (up a fairly steep hill) but there are plenty of Dolmus's around to get back to Palmin and will cost 3 Lira - around 30p!. Plenty of bars, restaurants and shops at Ladies Beach. Food at the hotel is of a very high standard, which we were a bit concerned about before booking, as all inclusive hotel food is sometimes not very good and also, with covid, we were concerned that it may not be up to much. All concerns were unfounded. Every meal was delicous and dinning room sanitised. Even cutlery was brought to you at the table wrapped and sealed. Drinks were of a better quality than normal All.Inc. standard. Pool - Fantastic, with lots of space Rooms - Lovely and comfortable (modern and large too) Staff - Everyone Brilliant! so helpfull and friendy Private Beach - Beautiful, nice and quiet, loads of space with a very good bar and snack bar/restaurant Easy access to town, Dolmus right outside for a few pence or a taxi for around 2 quid! If you book a restaurant in town most will pick you up and bring you back to hotel FREE of charge! Thoroughly recommend Murphy's Bar in town. Absolutely superb restaurant!! Amazing steaks! Picked up from Palmin, taken to Murphy's, well looked after, gorgeous meal and lots to drink! Both girls on cocktails all night! We were then told that we could get taken home when ever suited us - go have a wander round town, do some shopping, whatever you like. When you are ready to go, come back and we'll take you home! All this - 3 course meal with fillet steaks, cocktails and plenty of beer for 4, for around fifty quid! Brilliant! Hotel had a lot of guests in the same boat as us,ie were meant to be on holiday somewhere else, had holdays cancelled, and a lot had not been to Turkey before. Every single one we spoke to (and that was quite a few!) was so glad they chose The Palmin and Kusadasi. Thouroughly recommended and would most definetly return.
Standard Room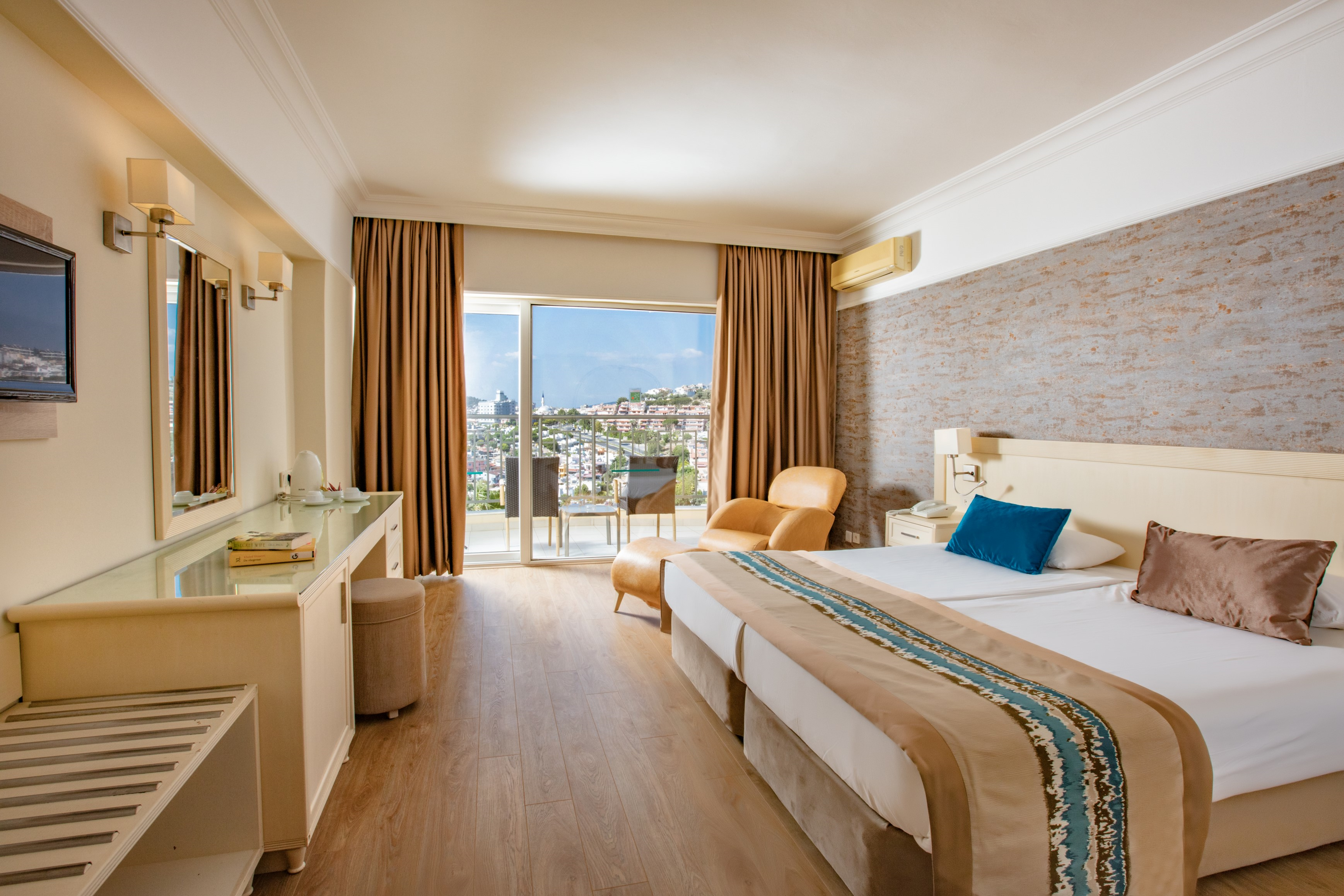 Family Room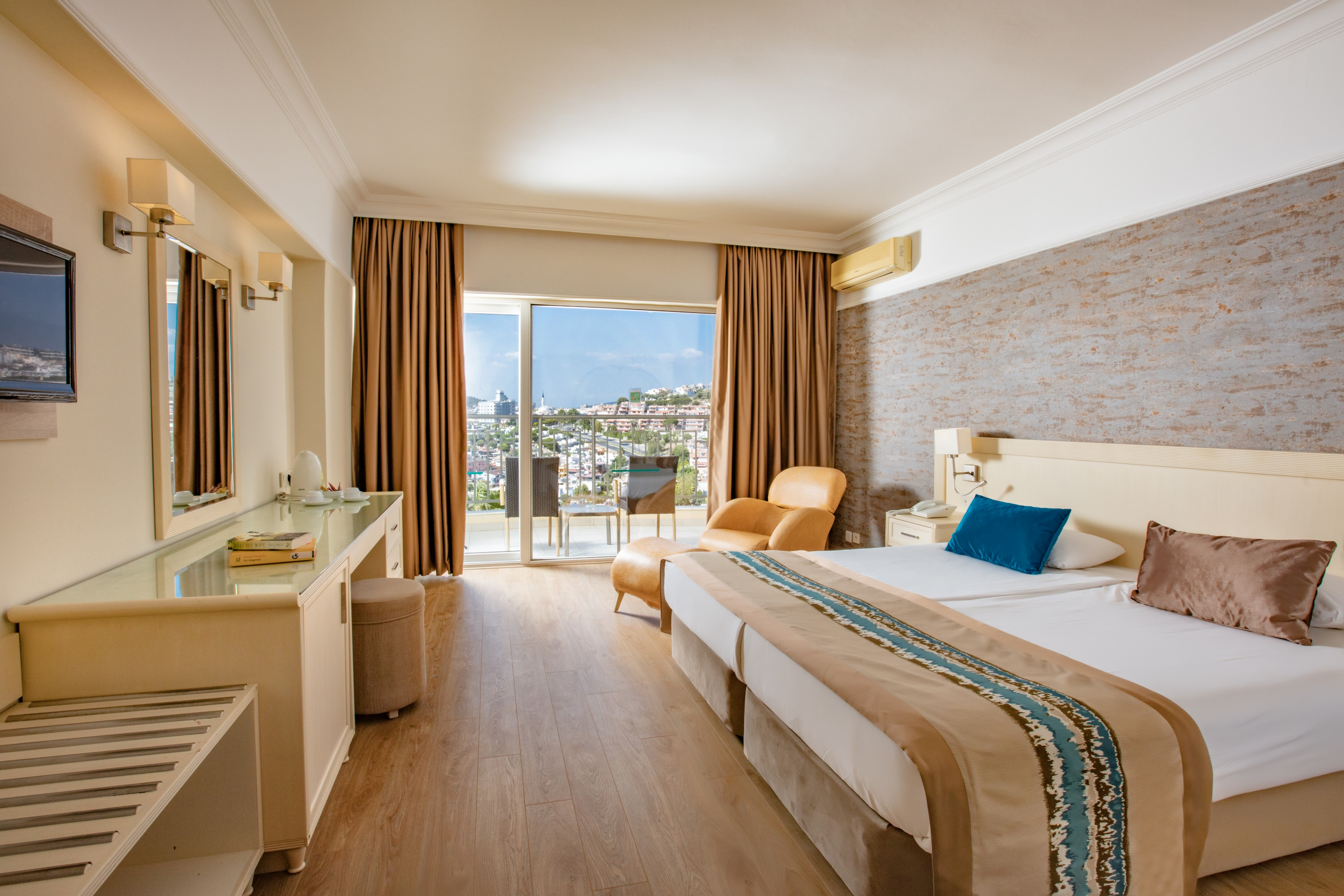 Bunk Bed Room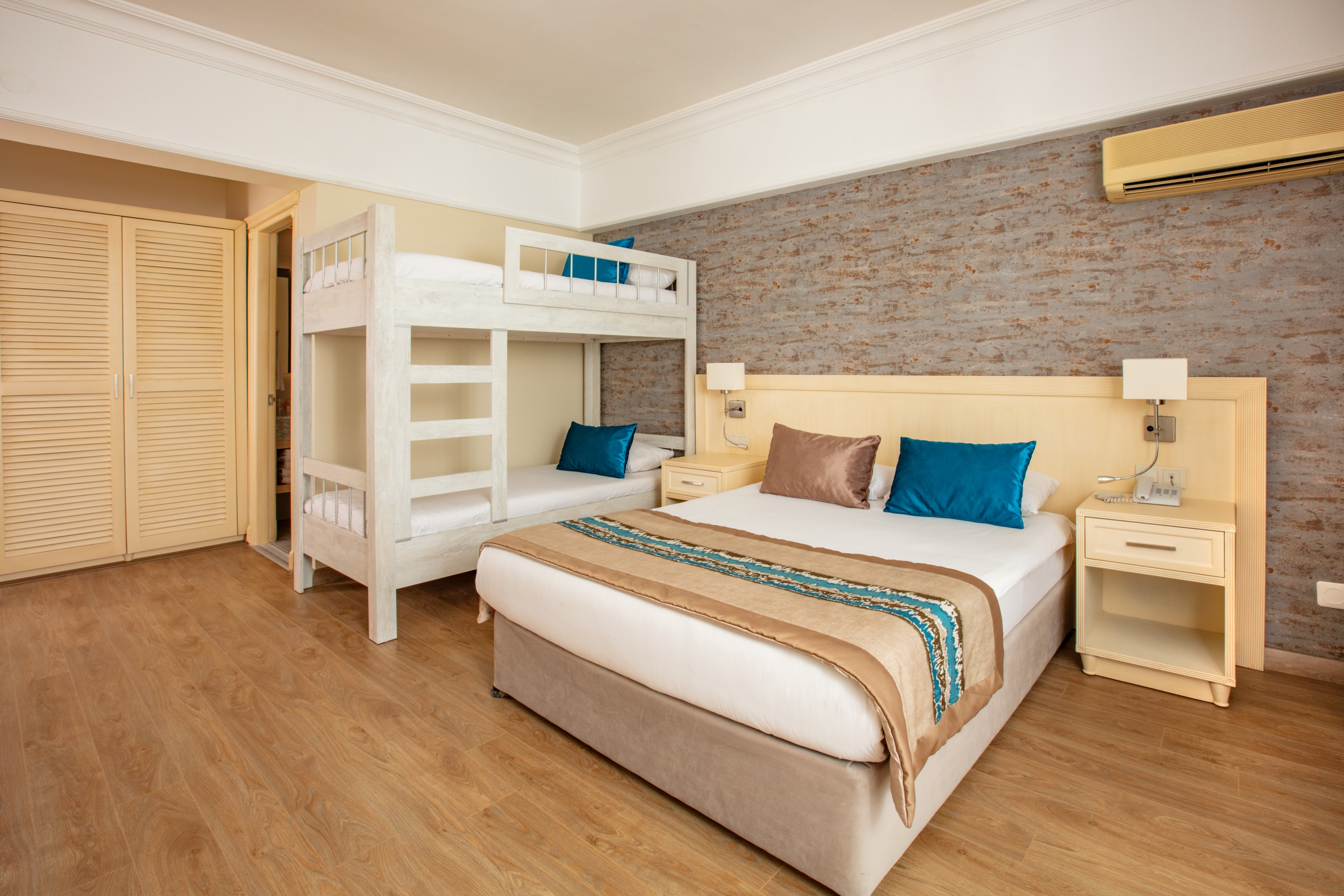 27 sqm - Wifi - Air conditioning - Flat-screen TV - Minibar - Refrigerator - Tea/Coffee maker - Safe - Hairdryer - Shower - Free toiletries - Wake-up service - Telephone