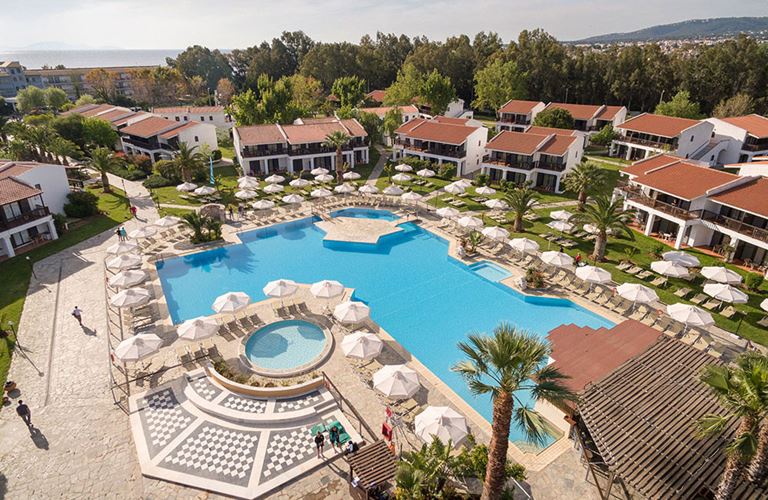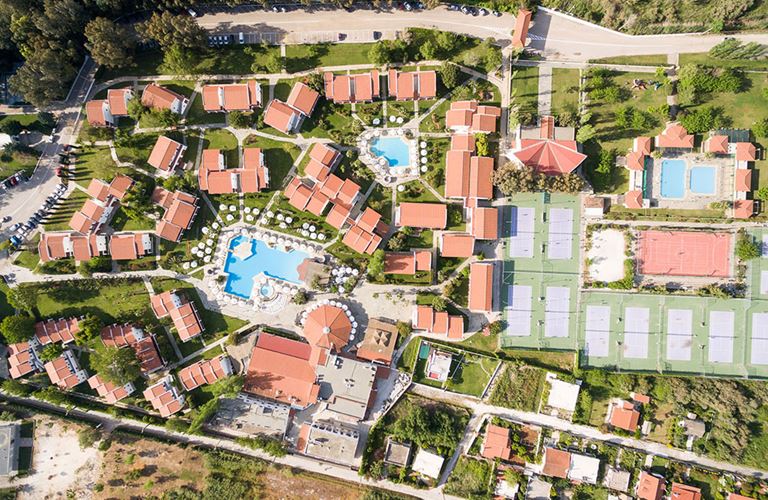 Golden Coast
(Based on 46 customer reviews)
Lovely hotel. Animation is French but this doesn't stop you enjoying the entertainment. Friendly staff happy to help if needed. All pools are well looked after. The main pool is very big and plenty of sun loungers about for you to relax on at all pools. This was our second visit and would go back.
Ian
Checked in Sun 31 Jul 2022
Hotel Information
OVERVIEW
Golden Coast Hotel and Bungalows is located on the golden, sandy beachof the famous Marathon Bay, and operates from April until October each year. Golden Coast Hotel and Bungalows, is a 4 star, beach-side resort built in a traditionalGreek style and in extensive grounds, close to the historic town of Marathon, in Attica. ACCOMMODATION· Our village-like complexconsists of a total of 540rooms (1,200 beds).· 90 sea view and150 garden view rooms(double, triple and familyapartments) in our4-storey Main Building(total of 240 rooms).· 300 family rooms andapartments in 2-storeyBungalows, arrangedaround gardens and pools(82 of these are reservedfor out Time-Sharing guests).MAIN BUILDING specifications· 7 family rooms of 33 m2 that canaccommodate up to 4 guests.· 5 double interconnected roomsof 21 m2 + 21 m2.· 110 triple rooms of 25 m2.· 118 double rooms (some of whichare for single use) of 21 m2.BUNGALOW specifications· 22 apartments of 2 rooms of 33 m2that accommodate up to 4 guests.· 76 family rooms of 27 m2 that canaccommodate up to 4 guests.· 100 double rooms of 25 m2 thatcan accommodate up to 3 guests.· 20 double interconnected roomsof 25 m2 each. ROOM FEATURES and AMENITIES· All rooms have a balcony or terrace, and are decorated in traditional greekstyle, with all modern conveniences.· Free wireless internet (WiFi), activatedwith a code given by Reception.· Twin or double beds.· Indiv.
controlled heating and air-conditioning.· Telephone with individual external phoneline and automatic wake-up call.· Mini fridge available in all Main Buildingand Bungalow rooms and apartments.· Satellite TV.· Safe deposit box.· Bathrooms with bathtub.· Hairdryer and bathroom amenities.· Non-smoking rooms available.· Babycot available upon request. FOOD and BEVERAGE INFO· OLYMPIA700-seat Main Restaurantwith international andgreek buffet style dishes.· TAVERNAMediterranean restaurantby the seaside that canbe reserved for special andprivate functions.· GRILL à la carte· POOL BAR· BEACH BAR· MUSIC LOUNGE BARFACILITIES and SERVICES· 24-hour reception, currency exchange, concierge and porter service.· Multilingual personnel.· Check-in at 2pm and check-out at noon.· All public areas are fully air-conditioned.· Free WiFi in all public areas, activatedwith a code given by Reception.· PCs available in our Discovery Centre.· Free outdoor parking.· Car rental available.· Mini-market and boutique.· 24-hour private security patrolling allhotel areas, as well as 9-hour lifeguardpool duty during operation hours.· Doctor on call (at extra charge).· Babysitting available on request(at extra charge).· Laundry service (at extra charge).· Greek Orthodox chapel. SWIMMING POOLS· 3 open-air sweet waterswimming pools(580m2, 350m2 and 280m2)with lifeguard on duty. BEACH and SEA· Sandy beach with umbrellasand sunbeds, as well asnon-motorised watersports(windsurfing, canoeing, etc),offered free of charge.· Beach/Pool towels (againsta reimbursable guarantee).· PADI scuba-diving centre(available at extra charge).MINI CLUB and JUNIOR CLUB· We operate a Mini and a Junior Clubfor our little guests (4-12 years) in aseparate, kid-friendly area with its ownpools, playground and supervision.· 2 open-air sweetwater and heatedswimming-pools of 110m2 and50cm of depth each.· Playground area and gardens.· 10 rooms of 50m2 each for differentgroup activities such as: painting, crafts, games and competitions, dancing, singing and DVD projections.· Qualified and multi-lingual staff arethere to take care and entertain kidsbetween 09.30h and 18.00h daily.
ANIMATION and ENTERTAINMENT· Multi-lingual animation team with dailyand nightly activities such as games, tournaments, dancing, cooking lessons, fitness, aquaerobics, cabaret shows, karaoke, greek folklore nights, themedevenings and disco nights. SPORT and LEISURE FACILITIES· 10 tartan tennis courts.· 3 tartan basketball courts.· 1 tartan volleyball court.· 1 tartan mini football court.· 1 badminton court.· The above sports activities can also take
Facilities
---
Our customer reviews
Schantel, Camberley
Checked in Tue 16 Aug 2022
Third time at Golden coast. Fantastic value for money. No English entertainment but that does not bother us.
---
Louise, Darwen
Checked in Fri 05 Aug 2022
The resort itself outside it stunning and the food is fantastic however the rooms which stated a double was 2 beds pushed together and not a bungalow with a room above with alot of noise and lack of sleep for us both and a standard room I would say. The biggest shame to the resort was unless you spoke French you felt very much like an outcast, no inclusion of activities as only in French, no interaction and also frowned upon by your fellow staff and holiday makers. I sat in an area just yo try watch the slide event and was asked to move by coach sportive, mans amin and she said uts just the rules to then watch those speaking French once I moved able to sit in the same area while I overlooked, I felt very upset by this and very much an outcast. There was another English family we met and thier son cried when we left and they appeared unhappy they had another week at the resort due to the outcast feel of thes resort, they really need to work on inclusion of all holiday makers, thankfully I was there only 2 nights after my cruise but if I had booked longer I would have booked alternative accommodation.