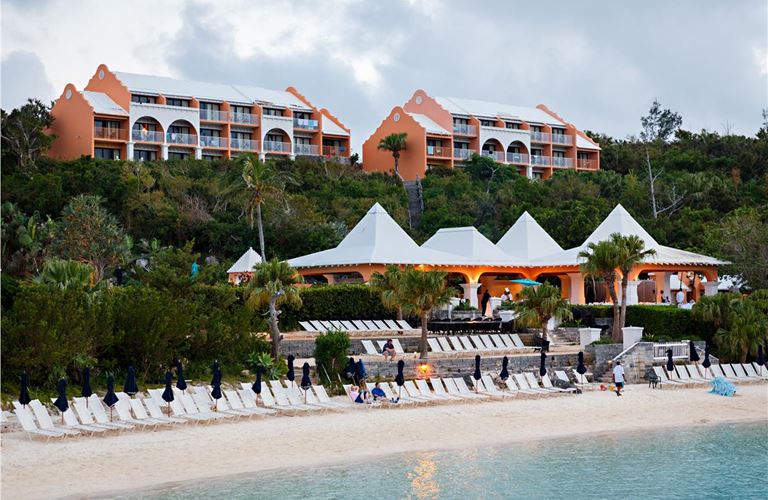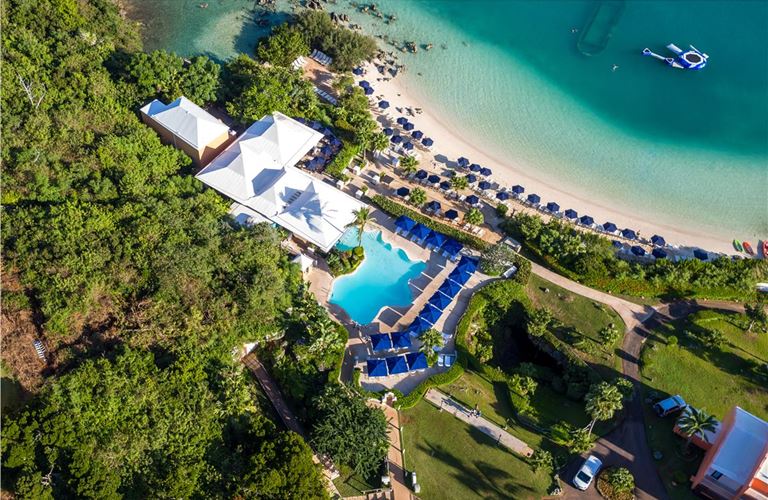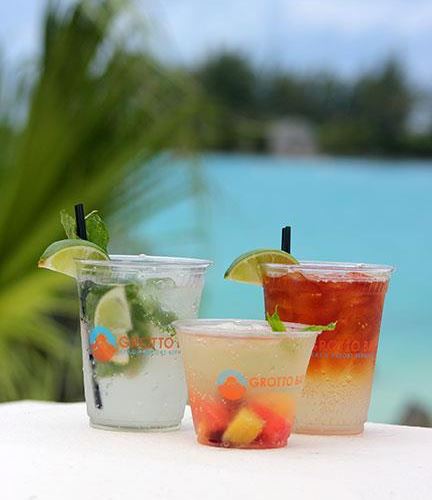 Grotto Bay Beach Resort Bermuda
We are still waiting for our first customer review!
Hotel Information
OVERVIEW
The resort sits on a lush tropical estate featuring dramatic caves and acres of woodland preserves along the water's edge in Bailey's Bay. Scattered over 21 acres and sloping down toward two private beaches are 11 colorful cottages in traditional Bermudian architecture overlooking the clear turquoise waters dotted with small islands. Swim in the shallow waters off our private pink sand beach, in the fresh water pool, or languish in the outdoor jacuzzi situated among a lush garden above the beach. Sail, snorkel, paddle board, dive ancient wrecks or explore the delicate coral reefs.
Grab an early morning fishing charter, take a cruise on a sunny afternoon or a glorious sunset sail right from our dock. Play tennis night or day, work out in our ocean-front gym or get pampered in our 500,000-year-old cave spa. The resort is conveniently located within five minutes of two of Bermuda's finest golf courses and the L.F. Wade International Airport. At Grotto Bay Beach Resort & Spa our extensive list of amenities and activities ensures there is something for everyone.
Facilities
---
Our customer reviews
We are still waiting for our first customer review!
Superior Room Ocean Front
Features a private furnished patio, with views of the oceanEntertainment - flat-screen television and free wireless internet accessFood & Drink - coffee/tea maker and mini refrigeratorPractical - air conditioning, climate control, desk, iron, ironing board, phone, safe and wake-up call service
Deluxe Room Ocean Front
Features a private furnished balcony, with views of the oceanLast renovated in 2019Entertainment - flat-screen television and free wireless internet accessFood & Drink - coffee/tea maker and mini refrigeratorPractical - air conditioning, climate control, desk, iron, ironing board, phone, safe and wake-up call service
Deluxe Room Ocean View
Features a private furnished balcony, with views of the oceanLast renovated in 2019Entertainment - flat-screen television and free wireless internet accessFood & Drink - coffee/tea maker and mini refrigeratorPractical - air conditioning, climate control, desk, iron, ironing board, phone, safe and wake-up call service
Superior Room Ocean View
Features a private furnished patio, with views of the oceanEntertainment - flat-screen television and free wireless internet accessFood & Drink - coffee/tea maker and mini refrigeratorPractical - air conditioning, climate control, desk, iron, ironing board, phone, safe and wake-up call serviceLast renovated in 2019