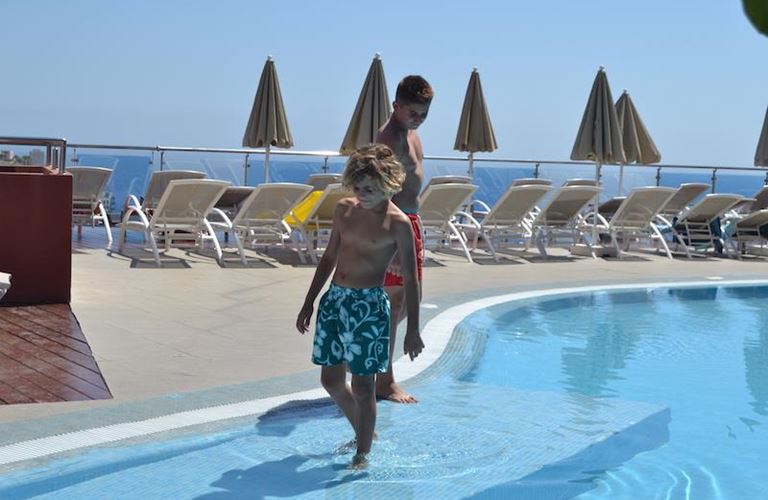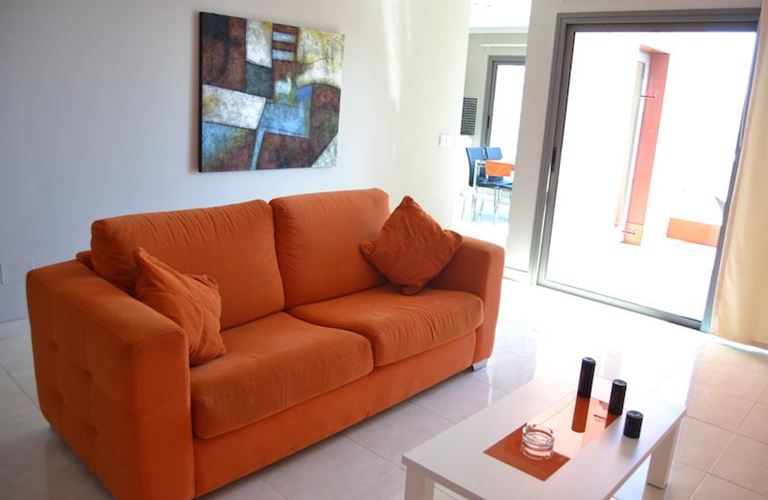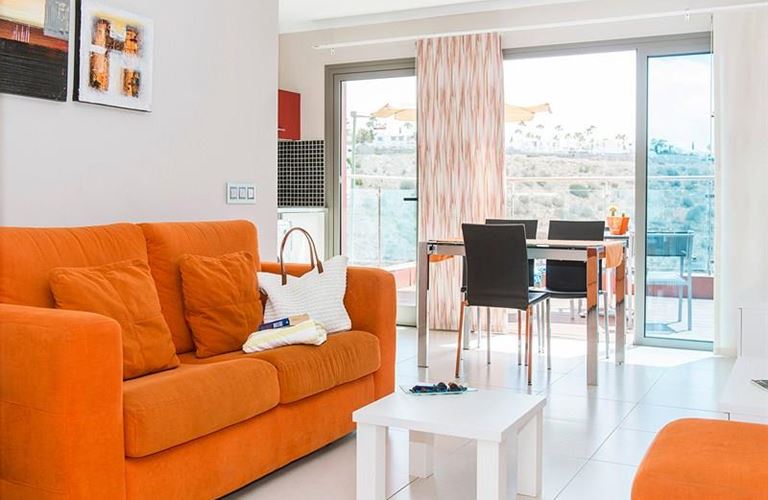 Our Customer Rating
(Based on 58 customer reviews)
Hotel Information
Overview
The apartment complex is in a privileged, secluded place, close to the viewpoint that is on the Playa de Amadores.
With a total 52 apartments, the complex was built in the year 2009. This is a very contemporary and modern complex. It is distributed into several blocks and has 3 panoramic elevators.
Upstairs is located a wonderful heated pool (in winter) with a large solarium with loungers and parasols.
The public areas are decorated with natural stone and stainless steel handrails and glass in two colours, when fully integrated into the architecture of the area. The exterior of the complex is decorated with decorative panels giving a modern twist. 

Accommodation
54 apartments very large (45 to 60 square meters) of one and two bedroom apartments with balconies and all with sea views. The decking at the bottom are 20, 30, 50,70 and up to 137 square meters and can serve as a solarium, dining or simply as a place of rest and relaxation.
TV Dining room with air conditioned, living and dining area. Safe (extra charge).
Fully equipped modern kitchen with microwave, kettle, toaster, coffee maker, washer / dryer, decorative extractor hood, oven, fridge / freezer type Combi, hob. All appliances are stainless steel Siemens.
Bathroom with power shower, sink, toilet and bidet. 

Nearby (additional charge)
Amadores Las Villas are located in the sunniest part of Gran Canaria and 1 km from one of the best beaches, Playa de Amadores, and 2 km from the Golf course of Taurus with other golf courses within a radius of 10 km 
Amadores beach is flanked by a fabulous white sand beach and crystal clear waters, with a perfect refuge for those seeking a holiday full of peace and rest. It is equipped with all amenities that a beach can offer features hammocks, umbrellas, restrooms, public showers, restaurants, shops, etc..
You will find the basic elements and attractions that meet their needs, such as bars and restaurants to taste the finest local and international dishes as well as souvenir shops.
If you want more activity, nightlife and entertainment can go to the lively resort of Puerto Rico, provided with a beach that offers water sports, marina and even a water park.
Immediately upstream of the complex there is a bus service every 15 minutes to Puerto Rico.

How to reach Villa de Amadores from Gran Canaria Airport
Distance: 45 km
1. Leaving the airport you have to go south towards Mogan.
2. Just when the highway ends you will see a sign indicating Amadores, take that direction.
3. Find the complex
---
Our customer reviews
Britt, Southampton
Checked in Mon 04 Nov 2019
The hotel staff were very approachable and friendly. The beach is some distance away but the hotel has minibus service. However taxis are cheap, so we ended up using them. There is a small shop in the hotel, but when we arrived it was somewhat depleted and we had to get taxi to the local supermarket. We had a two bedroom flat as there were four of us, but there was only one small worn out sofa in the flat, suitable for two with no additional chairs. Apart from that, the kitchen and dining utensils were rather sparse, but the flat itself was bright and sunny with a large balcony and air conditioning was effective in the living room. There is a small pool at the hotel with restaurant serving light meals and drinks until 6pm.
---
Alexander, Annan
Checked in Thu 10 Oct 2019
I got a rather small accommodation with small terrace 3 chairs & table no loungers but other accommodation had loungers also tv all Spanish apart from 1 channel the swimming pool was not for anyone young as no inflatables balls etc only swim or sit in pool ,which was on the small side .My shower room could've done with filling in holes in wall and paint.On the plus side the reception staff were excellent service.
One Bedroom Apartment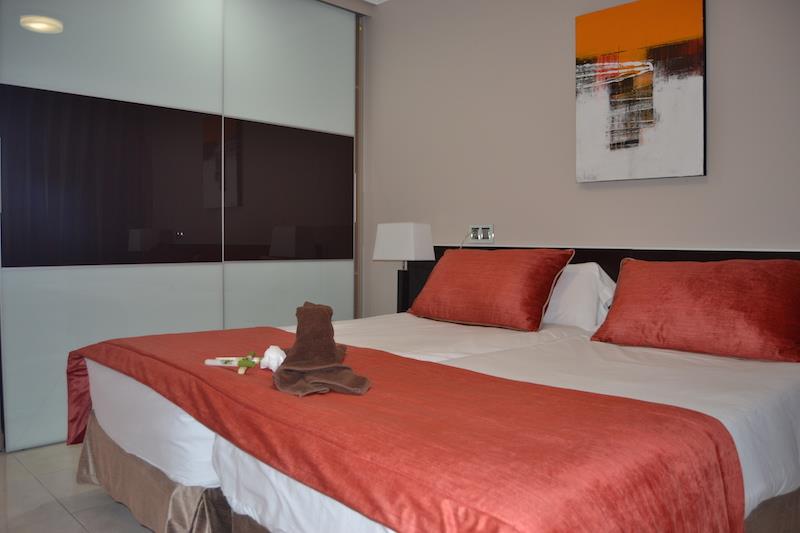 Spend a pleasant stay! Equipped with two 90cm beds and a sofa bed, the apartmen offers the ultimate in comfort, wireless internet surcharge, flat screen TV, air conditioning in living room and bathroom with shower and hairdryer.
máx 3 pax
Twin beds and sofa bed
Air conditioning in living room
Three Bedroom Villa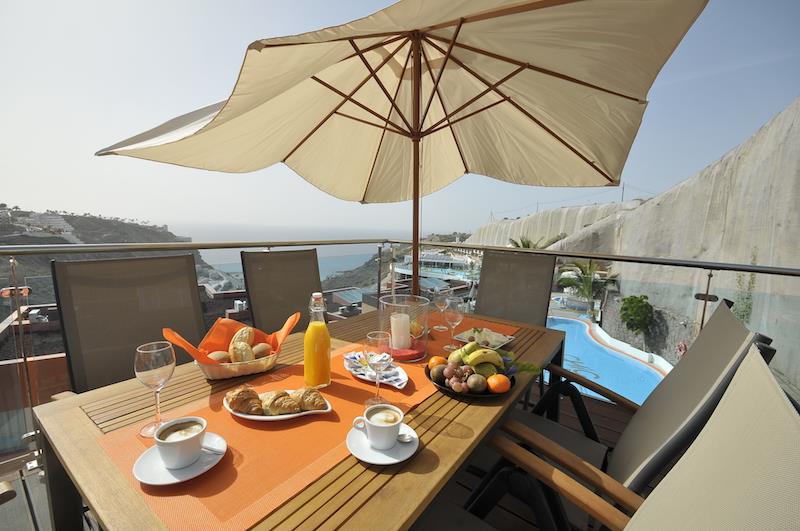 Wonderful Villa, with nice views to Amadores Beach, maximum capacity 8 people.
Three double bedrooms, fully equipped Kitchen, private Pool, Terrace ,Chill Out , Sauna, Bathroom with Jacuzzi, lounge with TV 58'', main Bedroom with A/C and TV.
Full equipped Kitchen (oven, microwave, dishwasher, wine cellar, ETC) Enjoy preparing a fabulous meal with views over the Amadores Beach.
Take pleasure in a dip in the pool or reading a book in the Chill Out area.
The main lounge is a comfortable room, TV 58'', is the perfect place to enjoy family moments.
Main Bathroom with shower, disabled facilities, Jacuzzi and double sinks.
Multimedia Room equipped with Home Cinema, Overhead Projector, DVD, DTT, Subwoofer. All it ready for delight our customers.
Two Bedroom Apartment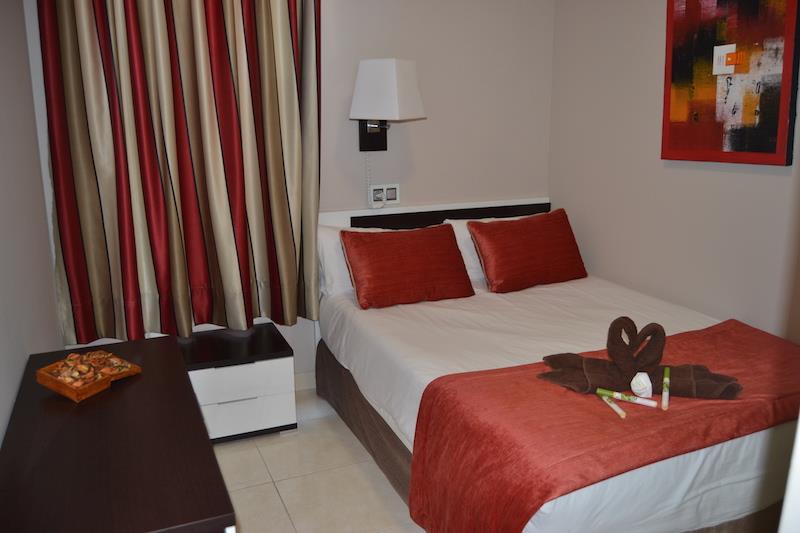 Spend a pleasant stay! Equipped with twin beds, double bed and sofa bed, the apartment offers the ultimate in comfort, wireless access surcharge, flat screen TV, air conditioning in living room and bathroom with shower and hairdryer.
Twin beds, double bed and sofa bed
Air conditioning in living room