Crete
Dates · 2 Adults, 1 Room, Economy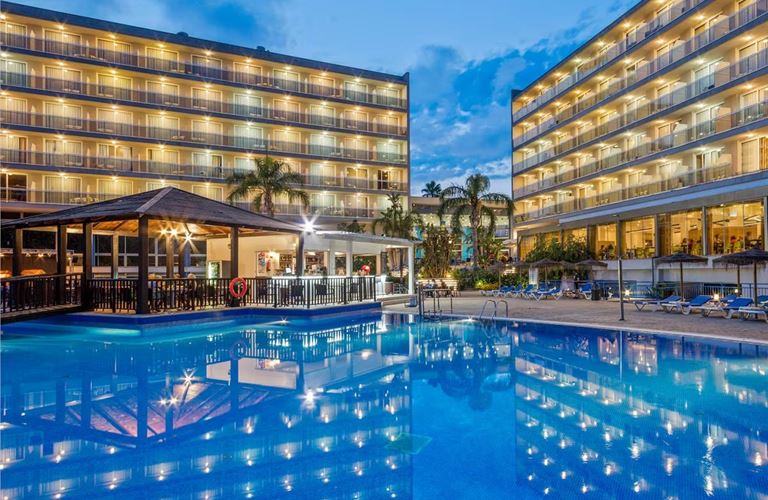 Sol Costa Daurada
(Based on 1025 customer reviews)
Street room on 3rd floor was great, as quiet with views of the theme park. Pools busy but we always got a sunbed when we went in afternoon. We did beach in morning and went through the gate by the pool which is quicker than main street.
Timothy
Checked in Sun 21 Aug 2022
Hotel Information
OVERVIEW
Swimming pool
Spa and wellness centre
Kids' club
About Sol Costa Daurada
Sol Costa Daurada Hotel is a 4 star resort in the popular seaside town of Salou, Catalonia, on the east coast of Spain. Long sandy beaches and a wide selection of bars and boutiques make Salou a popular choice for summer getaways. The hotel occupies a convenient spot just outside the centre and is home to a wellness centre, complete with a heated pool, sauna and Turkish bath, that promises guests a revitalising stay. The hotel's wellness facilities are complemented by a large lagoon-style swimming pool, bright rooms, and a variety of sports activities and shows on offer for both adults and children.
If a break on the beach is what you're after, then Salou won't disappoint. Over 14 km of coastline, secluded coves and pine forests provide a tranquil space to relax in between days spent exploring the town and local theme parks.
Who Is It Great for?
Sol Costa Daurada Hotel is particularly popular with families. Guests recommend the hotel for the range of activities on offer at the kids' club, as well the convenient location for PortAventura theme park.
At a Glance
11 km from Reus Airport
900 m from the beach
3.5 km from PortAventura
Facilities
Pool and Leisure
Lagoon style swimming pool
Games room
Children's play area
Spa and wellness centre
Fitness centre
Easy access to PortAventura theme park
Bars and Restaurants
Buffet restaurant
Spinnaker bar
El Mirador bar
The Kingdom of the Pint
Las Palmeras Bar
Entertainment
Kids' club
Activities programme for adults
Evening shows and live music
Accessibility
Accessible for those with limited mobility
Accessible rooms are available
Other Facilities
24-hour reception
Room service
Onsite parking (with a surcharge)
Meeting rooms
Free Wi-Fi
Local Area and Things to Do
One of the main attractions close to the Sol Costa Daurada Hotel is PortAventura theme park. Ideal for families looking for an immersive experience, a visit here allows you to explore an array of attractions from the dizzying Dragon Khan rollercoaster in the China area to the gun-toting shows of the Far West section.
If you fancy something different from the parks and beaches, then there's plenty more to do in the Costa Dorada area. From visiting the historical sites of Reus to wandering through ancient Roman ruins at the UNESCO World Heritage City of Tarragona, you have plenty of options when deciding how best to spend your getaway.
Food and Drink
Buffet restaurant
Buffet restaurant serving a wide range of local and international dishes
Spinnaker bar
Casual Mediterranean bar and restaurant offering light meals
El Mirador Bar
Casual bar featuring a wide range of drinks, as well as various fast food options
The Kingdom of the Pint
English-style pub serving a range of drinks and light meals
Las Palmeras Bar
Poolside bar offering a selection of drinks and light meals
Hotel Features
2 blocks
Lifts available
Free Wi-Fi
Overview of Rooms
Decorated with white and orange Mediterranean inspired designs, rooms at Sol Costa Daurada Hotel provide a bright space to relax in. Both standard and family rooms measure approximately 24 m2, with the latter including a sofa bed in addition to the queen-sized bed that come as standard. All rooms feature an en-suite bathroom, air conditioning system, hairdryer, telephone, minibar and satellite TV. The rooms also include a furnished private balconies for outdoor relaxation.
Information based on previous season and could be subject to change.
Bar and restaurant opening times may vary based on the season.
Facilities
---
Our customer reviews
Adrian, Kilmarnock
Checked in Tue 23 Aug 2022
Had a great stay at Sol Costa Daurada, just a few points have stopped me from giving higher score, this includes the beds in rooms, 2 single beds pushed together to make a double and also the single bed my son slept on was more like a camping bed, also no kettle so no coffee till u make it to food hall for breakfast, also no iron but u can hire one for 2 hours for €20 Euro deposit, we went half board and to be fair I can't complain about the food buffet style breakfast and dinner, good choice and tasty, all the staff were really nice and helpful, rooms cleaned every day but don't leave coins lying about as they went missing am not sure if the cleaning team thought this was a tip getting left for them but must have been at least €20 Euros in change went missing, nice pool area and entertainment was ok but all in Spanish so couldn't understand them , same with tv in room all Spanish channels. Would I stay here again am not sure but price wise it's a decent clean hotel with good staff ,
---
Timothy, Chatham
Checked in Sun 21 Aug 2022
Street room on 3rd floor was great, as quiet with views of the theme park. Pools busy but we always got a sunbed when we went in afternoon. We did beach in morning and went through the gate by the pool which is quicker than main street. Food was excellent both at breakfast and dinner, sometimes a queue, but went quickly and always a high chair available. Was really sad to get back home and have to cook and wash up again! Staff in general at reception and restaurant very good. Animation team good, most is in Spanish and English, with a lot in French as well, however Mama Mia show was only in Spanish. Music for kids at about 21:30 to 22:00 was 90% Spanish tunes, rather than international hits. We were fine with shows planned to start at 22:00, but unfortunately they often started late at 22:15+, so by time finished at 23+ was late for our two kids (5 and 1) and me! Room was decent size for the 4 of us (including full size travel cot and mattress, provided for free), with large bathroom handy for extra storage space under the sink. Wardrobe had some metal bars at the base, making it annoying to rest a bag in. Main bed was comfy, but sofa bed was horrible and I woke up with a bad back every day. Balcony good, but could do with a small table. Playground was useful for a bit, although at 6pm ish attracts mosquitoes (we had no problems elsewhere). I would suggest they make the floor rubber instead of sand to stop this issue and make the playground a more useful after pool hangout. Is a bit further from the beach than most other similar hotels, although the quietness at night offers compensation for that. Shower had great pressure and held temperature, was also above a proper bath, which our kids enjoyed. TV was a bit weird as normally on Spanish TVs you can change the audio to Original Version to have English on kid's TV / international programmes etc, however the remote was very basic and did not offer this, which was annoying as left with just one or two English channels of which none were for kids. We would definitely stay here again if the price is right.
Family Room
Ideal for family enjoyment, these 24 m2 rooms have a double bed (queen), a sofa bed, individually controlled air conditioning, a TV, a safe, a mini fridge, a furnished terrace (table / chairs) and a full bathroom with a bathtub.
Services
24H RECEPTION SERVICE
24 HOUR WAKE UP SERVICE
ROOM SERVICE FROM 12:00 A.M. TO 12:00 P.M.
LAUNDRY (*)
Standard Room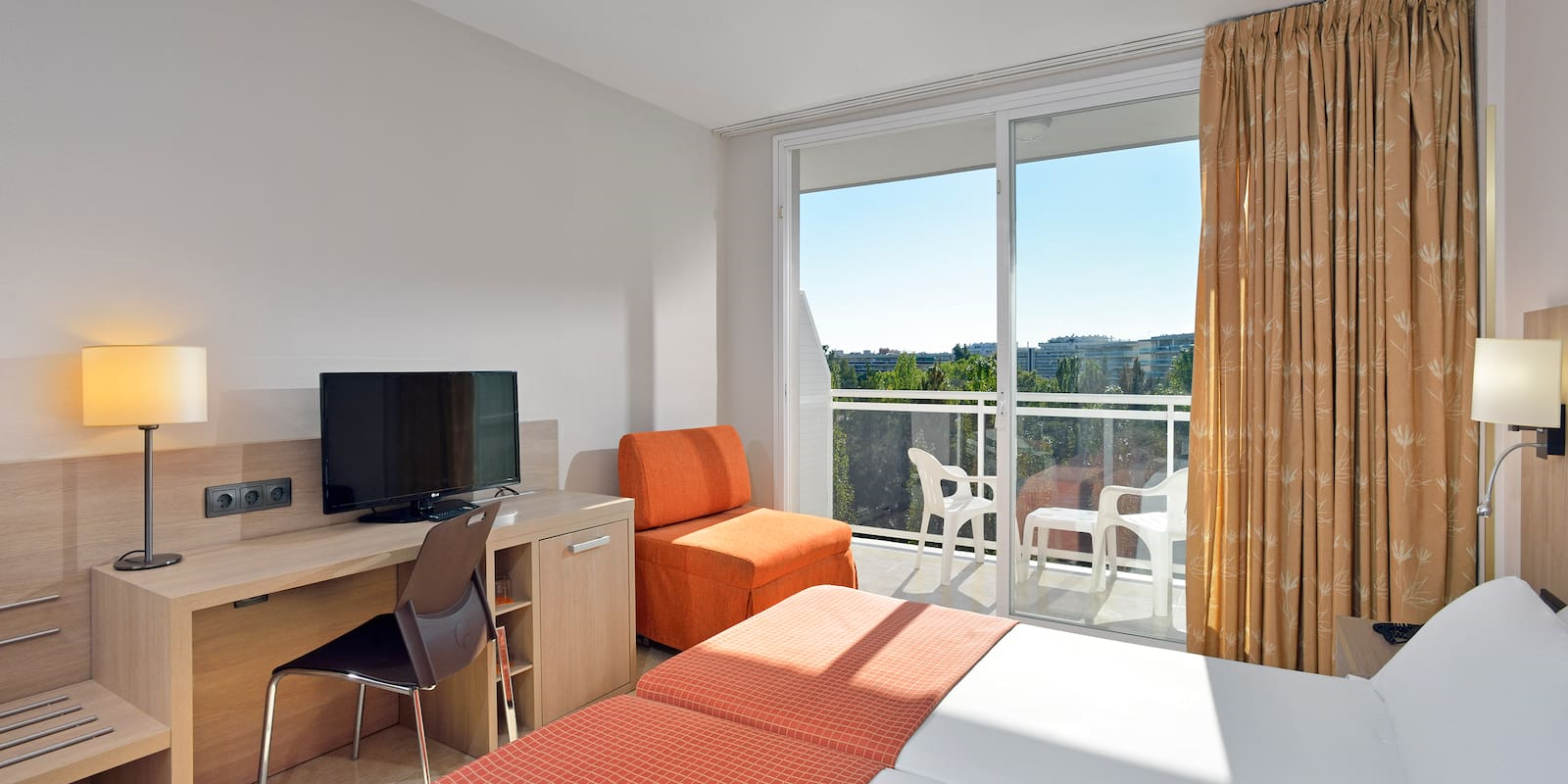 Spacious, meals and bright rooms of 24 m2, available with two single beds (twin) or double bed (queen), individually controlled air conditioning, TV, safe, mini fridge, furnished terrace (table / chairs) and full bathroom with bathtub.
Flat screen TV

Air conditioning

Garden Views