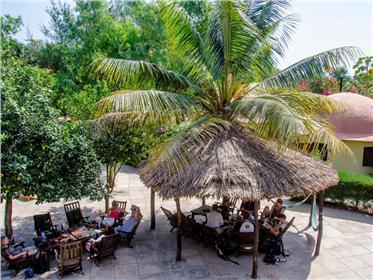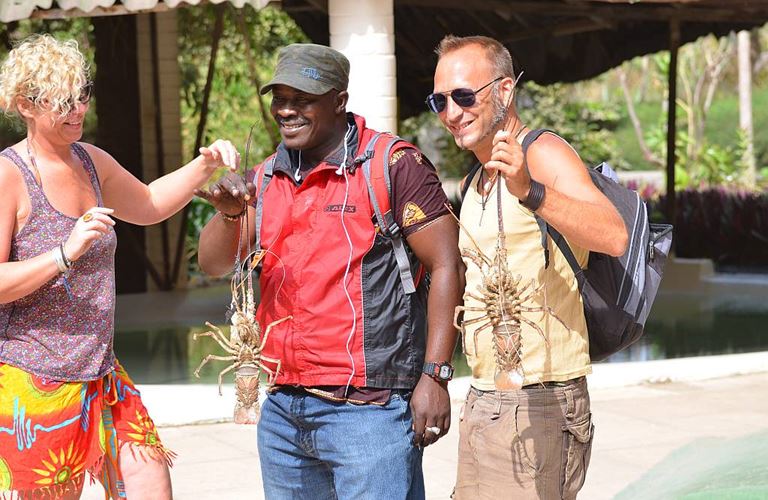 Footsteps Eco Lodge
(Based on 2 customer reviews)
Hotel Information
OVERVIEW
Located in the bush about an hour from the main tourist area of Senegambia, this traditional multi award winning African lodge is perfect for guests looking to experience the 'real' Gambia. The lodge prides itself on its eco-friendly lifestyle, and uses a variety of local and home-grown produce in its extensive restaurant menu. The compound has a real family atmosphere, with the on-site Bantaba the perfect place to unwind and get to know other guests. If you're looking to explore the stunning forest surrounding the complex you'll find a secluded sandy beach about half an hour away, perfect for those relaxing days spent enjoying the warm Gambian sun. Accommodation is built in the style of traditional Gambian roundhouses, with each providing en-suite facilities and terrace area.
---
Our customer reviews
Ian, Ulverston
Checked in Fri 12 Feb 2016
My stay at the Footsteps Eco Lodge in Gambia was very relaxing and the staff and owner were extremely friendly and helpful. The lodge complex is quite small and most of the guests ate and socialised together creating a quite unique atmosphere. The age range of guests was from early 20s to 70s and yet everyone chatted together from breakfast time through to late evening. The hotel is treading a delicate balance between in being uncommercialised with a loose routine and yet still managing to deliver a professional level of service. The meals were very good on the whole, especially the breakfast and lunch menus, although the evening meals varied in quality and sometimes dipped below what I might have expected for the prices being charged, especially given the excellent meals available from other restaurants in the area. On balance though it was an excellent holiday experience and I would certainly consider returning to The Gambia and to Footsteps Eco Lodge.
---
Hien, London
Checked in Thu 14 Nov 2013
Superb. If you're looking for a quiet break away from crowds and noise, then this is it. We arrived to a very warm welcome, from hotel staff, manager and other guests and this set the tone for the rest of our stay. Our hut was very comfortable and atmospheric, this seems to be one of the few places that actually lives up to it's 'eco' title. Everything was solar powered, the toilets were a fantastic sawdust compost system, even the pool is naturally filtered. The staff were always friendly, relaxed and ever helpful and the food was really fantastic, the soso beans became a real favourite of mine. It's in a beautiful setting, surrounded by bush and jungle, with an epic amount and variety of birds (and other wildlife). We didn't arrive with birds in mind, but the sheer colour and variety can't not impress. Just relaxing around the lodge was so tranquil, the raised hide overlooking a small watering hole was especially relaxing and rewarding. The walk to the beach took about 30mins at a slow stroll, down through farm field sandy tracks and bush. Locals you meet along the way are relaxed and hassle free, gentle easy greetings and polite. The beach itself is empty, huge and a delight. I really can't recommend this fabulous place enough.