Maldives
Dates · 2 Adults, 1 Room, Economy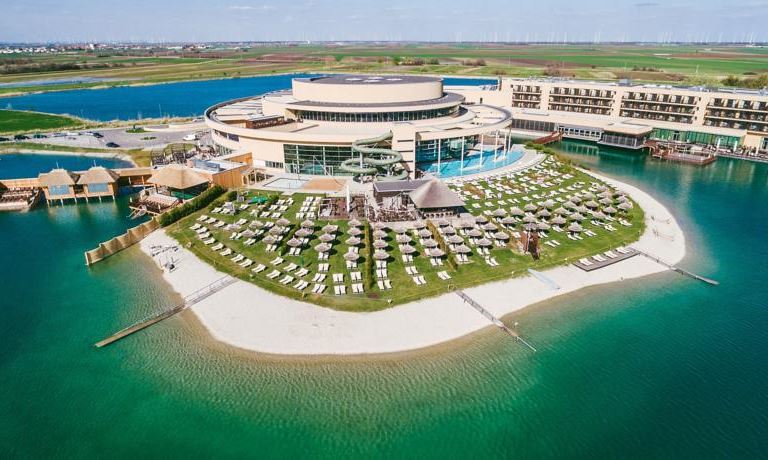 St Martins Therme & Lodge
---
Frauenkirchen, Burgenland
We are still waiting for our first customer review!
Hotel Information
OVERVIEW
Discover Central Europe's Premier Lodge

Leisure and astonishment. Freedom and a feeling of safety. Adventure and a place of retreat. True to these concepts, a visit to St. Martins will include many outdoor experiences – a combination of nature and culture. Spend your evenings on the lakeside terrace, in the glow of an open fire and torches and let the day's adventures crystallise into the stories that you will take home with you.

Leisure and Astonishment

This exclusive 4 star superior resort is a "guesthouse surrounded by untouched nature" and a perfect place for you to explore Seewinkel and experience it in a way you have never seen it before. Located on the edge of the national park, the lodge gives our guests a new perspective: it is a place to discover onesself and to become one with nature. A place for connoisseurs and explorers. Say goodbye to the daily grind and take a step into the world of relaxation: the world of thermal baths and hotels. Welcome to a world of leisure and astonishment.

The St. Martins Legend

DISCOVER what St. Martins Therme & Lodge stands for!
We were named for Saint Martin, the patron saint of Burgenland. Saint Martin was a Roman who loved thermal baths. What could be a better name for a thermal resort than that of a lover of thermal baths and patron saint of Burgenland.

What does St. Martins have to do with the Martini geese?
Most people are familiar with the part of the legend in which Saint Martin shared his cloak with a beggar, however not so many know how the story continues. When it was announced that he was to become Bishop of Tours, he was worried that he would have to say goodbye to the thermal baths in Burgenland. In order to avoid being made bishop, he hid in a goose stall on the day of his appointment, but was given away by the honking of the geese. Ever since, this event has been celebrated on Saint Martin's name day (11 November) with the Martini Gansl feast.
Facilities
---
Our customer reviews
We are still waiting for our first customer review!