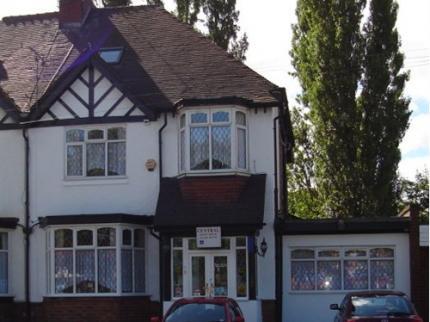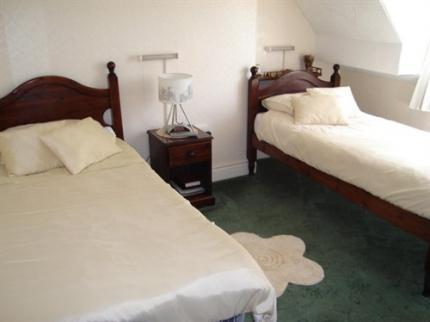 Central Guest House
---
Birmingham, West Midlands
(Based on 3 customer reviews)
Hotel Information
OVERVIEW
With a stay at Central Guest House in Birmingham, you'll be close to Blakesley Hall and Sarehole Mill. This guesthouse is within close proximity of St Edburgha's Church and Birmingham Eco Park. Rooms Make yourself at home in one of the 5 guestrooms. Complimentary wireless Internet access is available to keep you connected. Conveniences include coffee/tea makers, and irons/ironing boards can be requested. Make use of convenient amenities, which include complimentary wireless Internet access and tour/ticket assistance. Dining English breakfasts are available for a fee. Business, Other Amenities Free self parking is available onsite.
This establishment has the following features:
---
Our customer reviews
Naomi, Carlisle
Checked in Wed 14 Sep 2016
Lovely guest house and the owners Michael & Marlene are lovely. We only stayed overnight as we were up earky for the airport the next day. The guest house is ideally situated only a 15 min drive to the airport and with little traffic at 5am, we were there 10 mins later! Check in was simple-we contacted the owners in advance to ask if we could check in sooner than allowed as we wanted to sleep with travelling so much in the previous few days. We were actually there by 12 midday and checked in straightaway. Both Michael and Marlene were there to greet us and get us checked in. We were given keys to the property, any vital info was passed on and the breakfast menu too! Unfortunately, we had to miss breakfast as we had to leave early and breakfast is from around 7am I think. The menu sounds fab though-a good choice of cereals, juices, full English breakfast and there are also vegetarian options! :D Would have liked to sample the food here, but maybe next time! Prices at the hotel depend upon room size, but start from around £54 for one night. Family rooms will be a bit more. In my opinion, it is a good price for somewhere so close to the airport. Facilities:-The guest house has 5 rooms. We had 2 single beds. There is a tv in each room, a chair, ceiling fan (with light) a heater on the wall, free wifi (for which you get a code), tea & coffee facilities, a hairdryer, a bible (should you wish to use it), a guide book for the hotel, food and surrounding area. Our room had an en-suite which was lovely. Towels were provided for our stay and there was shampoo, conditioner, face cloth and hand soap. There were a few issues with our room (number 5) which we passed onto the owners and so it will not come as a shock to them to read it on here, but the shower was not powerful at all, it just trickled out and the hot water takes ages to come through! After a shower, the water took ages to drain away. I discovered clumps of hair were clogged up in the drainage system. Yuk! The fan did not work in our room and we were told when we asked about it that someone had broken the pull cord. I don't know how long this has been broken, but I hope it is fixed for our next visit. In winter, this would not be a problem but when we stayed over, it was 23 degrees and the room was so unbearably hot that we felt sick! We couldn't sleep with the covers on or any clothing either. The windows were open, but no air at all!! Although we did sleep in the comfortable beds, (and they are comfy) it was restless sleep and only for a couple of hours before leaving the next day. Such a shame because it is a lovely, homely guest house and the rooms are nice and clean. As long as you don't mind about staying somewhere without all the mod cons, then this place is great :) If I am being very picky, there was no decaff coffee (I brought some with me anyway) and I wouldn't mind, but I cannot have normal coffee. I have a yeast intolerance which I didn't pass on to them (so maybe they would accomodate for this if asked) and normal caffeinated coffee turns to yeast in the stomach which then causes me issues! Not a big issue really, but I hope it will help others to plan for their stay if needing decaff coffee! Surrounding area: Good bus service-starts early mornings til quite late. There are various buses available from outside the guest house into the town. McDonalds is a 5 min walk, as is the nearest pub, as well as an Indian/Thai/Oriental/Italian all you can eat buffet buffet (around £12 pp when we went). Very nice too! Very warm in there though-so wear something light or wear layers that you can remove (either that or splurge the cash on lots of drinks to cool down!) There were fans in there, but it was so hot you do start perspiring and using the nearest menus to fan yourself down. There are lots of shops across the road, including Mace, Post Office, Poundland and many others. Great location with no need to get in a taxi anywhere-just leave the guest house , cross the road and you are there! :D What could be better!? So....to sum up:- Would we stay here again? YES! **I will add that Birmingham Airport is the best airport we have ever travelled from (so stress free, with security being very quick indeed-at around 8 mins. Though it was early on. We usually queue in Manchester, regardless of how early on, for at least 1.5 hrs!)** Cleanliness: 8/10 (due to shower hair clumps and side of bed nearest the wall had a few crumbs or something. Facilities: 9/10 (marked down slightly for broken fan) Perhaps an idea to have spare fans for issues like this occuring again. We are in good health and struggled to breathe! I WILL ADD THAT THIS ACCOMODATION IS NOT SUITABLE FOR WHEELCHAIR USERS, AS THERE IS NO LIFT AND ROOMS ARE ON TWO FLOORS, WITH 14 STEPS. Friendliness/attentiveness of hosts 9/10. They are both lovely and there if you need them, great welcome. Have marked down slightly for the fan issue, (as perhaps they could have offered to source us a fan) and the room was so hot! Location: 10/10 Excellent! Everything is nearby, inc ATM's. I don't think I have missed anything off, but please ask me if you have questions. I shall do my best to answer. All in all, I gave this gues house a 7/10 which I think is an honest score. If we had not had a few issues with the shower, cleanliness & fan then I would mark it a 9/10, so all easy fixes I think. Would be a very good score otherwise, so maybe others will have a better experience next time if in this same room or staying elsewhere in the guest house. THANK YOU FOR OUR STAY.
---
Bronagh, Wokingham
Checked in Fri 04 Mar 2016
Lovely little B&B, friendly, comfortable, everything you need for a night or two and great breakfast!!!