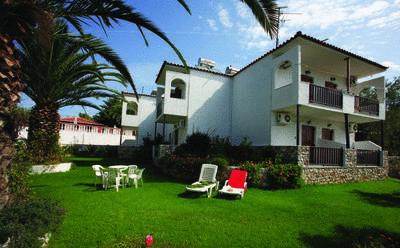 Magdalenda Studios
(Based on 2 customer reviews)
Hotel Information
OVERVIEW
Situated in the sleepy resort of Kolios, the simple Magdalenda Studios offer a friendly, family-orientated environment in which to relax and unwind. Surrounded by well-tended gardens, each studio is fully equipped for a comfortable self-catering stay. If you like to relax beside the pool you'll be able to use the facilities at a neighbouring property, however with the nearest beach just 300 metres away why not head for the sands instead?
---
Our customer reviews
Colin, Gateshead
Checked in Fri 22 Aug 2014
Very friendly owners.Set in attractive gardens.Very handy for everything.Some updating needed.
---
B, Warrington
Checked in Fri 16 Aug 2013
The owners of this hotel are very friendly and kind nothing is too much trouble they are not very good with their English which can be a problem. But the Yanis super market nextdoor who belong to the same family are a great help you also have use of their swimming pool. We recommend the restaurant Jimmys which is the nearest about two hundred yards on the right down the road it is as good as any. As far as we are concerned we enjoyed our holiday and would go back again and regret it was only seven days.