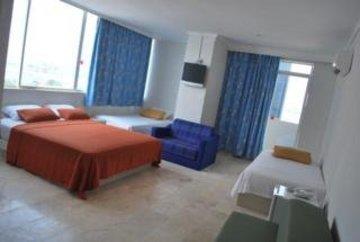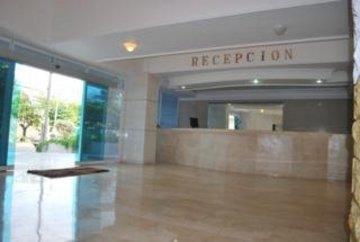 Cartagena Premium
(Based on 1 customer review)
Hotel Information
OVERVIEW
The Cartagena Premium Hotel is a 3 * hotel located a few meters from the beach and only 5 minutes from the historic center of the city Cartagena de Indias.
The hotel has 140 modern rooms with ocean and bay views equipped with minibar, cable TV, TV, plasma, air minisplit.
Among the services offered by the hotel are: restaurant, panoramic swimming pool, wifi, two auditoriums, internal and panoramic elevators parked. The restaurant offers buffet style food service and cafeteria.
Facilities
---
Our customer reviews
Brian, Wigan
Checked in Sat 17 Jan 2015
The photos must have been taken when the hotel was new because the rooms do not look like this now! They are run down, dirty from years of grime that has never been cleaned up. Their idea of cleaning is changing the bedsheets and mopping the floor and that's about it. When we got to our room we asked to change because it was very small and the balcony door wouldn't open (we hadn't noted the grime so much at that point, just the general dilapidation) and was told that they would find us an alternative the next morning when people checked out. Without going into all the boring details, we lost the main part of the day waiting for them to change us... and just as we were unpacking, we noticed the new room had blood splatters all around it, it seemed a massacre had taken place... now how is it possible for the cleaner's not to see that? So we started looking a little more closely and realised nothing was clean. Telephone receiver with years of encrusted makeup and sun oil stuck to it, etc. With that I wold them I wanted to leave and get a refund... they don't give refunds, just a credit letter so that you can come back later in the year! Now wouldn't that be nice? Onto the food, when we got there the first night, supposedly there was still 30 minutes of dinner service available... what was left was not worth calling food, we gave up went out and paid for dinner even though our stay included all food (big mistake!). Other items to take into account.... the wifi was only working in reception, "under maintenance".... and hotel roof pool was "under maintenance", and what I say of it didn't like that appetising either! After 20 hours in this hole we had to get out, so the "management" (a kid of about 18 years old with ripped jeans and absolutely no authority to do anything such as try to look at how to make a refund, only say "we don't give refunds"), came up with the idea of sending us to their sister hotel, so we went, just to get out...... but that's another chapter! I've rated the hotel 1.5 only because of its location close to the beach and restaurants, but there is so much choice in the area, choose another one!