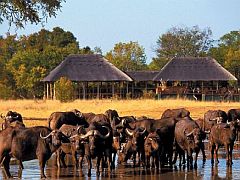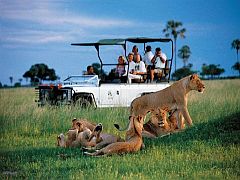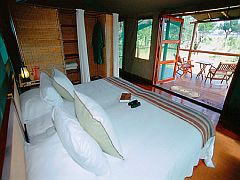 Makalolo Plains Hotel
We are still waiting for our first customer review!
Hotel Information
OVERVIEW
The MAKALOLO PLAINS (T) is a Tourist hotel. Located in Hwange National Park area. Shopping is accessible by bus/taxi and the nightlife/restaurants are easily accessible by taxi or bus from the hotel.
The camp is set in a unique location, overlooking the Samavundhla Pan - which attracts game in good concentrations. There are excellent opportunities to view game from open 4x4 vehicles during the early morning and late afternoon, when game is most active. Foot safaris are also offered, and are accompanied by an armed professional guide. The entire camp is raised on wooden boardwalks and platforms, giving guests excellent views over the waterhole and floodplain in front of the camp. Accommodation consists of nine large, comfortable tented rooms with en-suite shower, toilet and basin - all with hot and cold running water. There is an outdoor shower for those who enjoy showering under the stars. The lighting in the rooms is battery powered - ensuring peace and quiet in camp. Meals are enjoyed in the separate raised dining area. There is also a lounge, pub and plunge pool. The camp has hides overlooking the waterhole, which allow guests to enjoy close up game viewing.
---
Our customer reviews
We are still waiting for our first customer review!