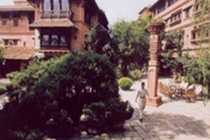 Dwarikas Heritage Hotel
We are still waiting for our first customer review!
Hotel Information
OVERVIEW
The DWARIKAS HERITAGE HOTEL is a Tourist hotel. Located in City Suburb area. and the nightlife/restaurants are easily accessible by taxi or bus from the hotel.
The magnificence of Dwarika's is its buildings of intricate carved wood and terracotta work that must have taken 10 million hours of the best craftsmen in Nepal. Every brick is handmade and every piece of wood work a centuries old original. But Dwarika's is also about intimate luxury and the spirit and hospitality of the Nepali people. Guests enjoy a tradition of casual elegance - comfort assured by an uncommon attention to detail and personal service as the 74 deluxe rooms and suites provide a haven of luxurious comfort. Where every meal is considered a feast, the hotel provides delicious cuisines and premium drinks. The perfect refuge for all kinds of travelers, it facilitates excellent leisure and recreational facilities along with contemporary business features.
---
Our customer reviews
We are still waiting for our first customer review!