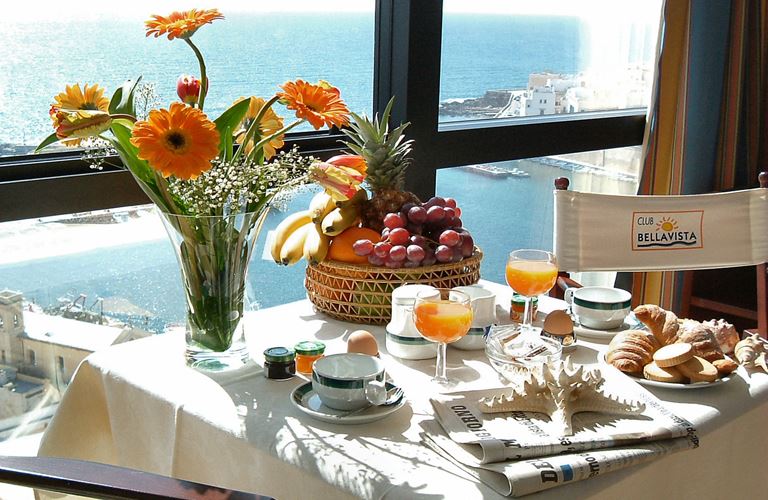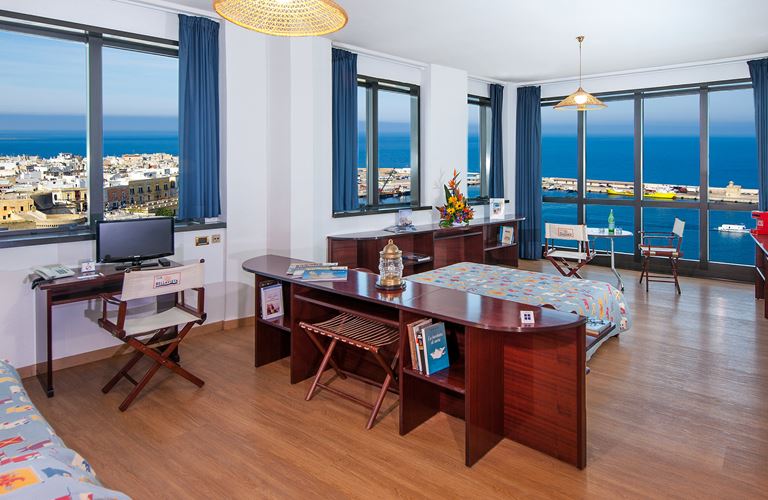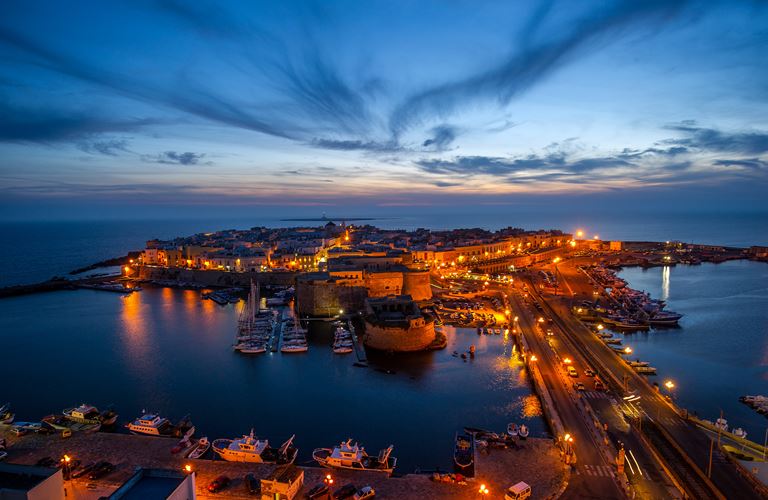 Hotel Club Bellavista
(Based on 6 customer reviews)
Hotel Information
OVERVIEW
Gallipoli has always been a sea town of first importance. It has a strategic position in the salentine peninsula, few kilometres away from the most important industrial and artisan areas of the hinterland. The ancient part of the town, on an island linked to mainland by a XVII century bridge, is the first stage to discover a jewels which will bewitch you with its treasure of historical, artistical and natural beauties.

The Bellavista Club is located sull'insenatura of Canneto, overlooking the new tourist port of Gallipoli, "city beautiful". The apartments are distributed in the fourteen floors of a modern skyscraper, with a superb view on 'island in the ancient village and the marine reserve of' Island of St. Andrea. A dream, from sunrise to sunset!

The motorboat "Due Mari" links up the Club with the Beach of the Sirens "Lido delle Sirene", with several daily trips. The "Lido" can be reached also with a private shuttle. The "Lido delle Sirene" in a luxuriant private pineta, she is equipped with I lay down, bunk sunsuit, ombrelloni; besides it has swimming pools with solarium; she offers the possibility to practise courses of sail, swimming in swimming pool semiolimpionica, windsurf, sub with release of brevet; the rental is anticipated for windsurf, sailboats, canoes, pedaled, boats. In alternative basket, volleyball, calcetto and tennis with illumination, horseback riding, bottles, pallanuoto, nautical ski, beach volley, wisecracks of fishing, minigolf, draught with the arc, ping pong, ciclopasseggiate, the park plays and to less than 30 minutes the Sweater Club. And to the reentry in city not to be lost the creative kitchen and selects it wine cellar of the exclusive panoramic restaurant of the Bellavista Club.

Facilities
---
Our customer reviews
Benjamin, London
Checked in Fri 22 Sep 2017
Best thing about this hotel is the location and the view from the room. The room I had was very spacious with high ceilings. Breakfast was good in the nice restaurant overlooking the harbour front. Front desk staff were very nice. Would have liked a kettle in the room to make tea, but there was a coffee maker (chargeable). The windows needed a wash, which would have made the view much nicer to look at from the room. My only concern was the electrical sockets which were not securely attached to the walls, some maintenance is needed on them. Great location to walk out and one beach is not too far on the far side of the old town. But for the best beaches a long walk of about 50 minutes or you have to hire a bike.
---
Ilaria, Rieti
Checked in Thu 27 Jul 2017
Beautiful hotel opposite the old town of Gallipoli. I stayed 10gg with my husband and 2 children. Fantastic because in the evening we walked out into the old town and on the day we stopped eating at the Sirenè hotel which is part of the same chain in the stunning green bay beach. Great for young kids and others I would recommend it