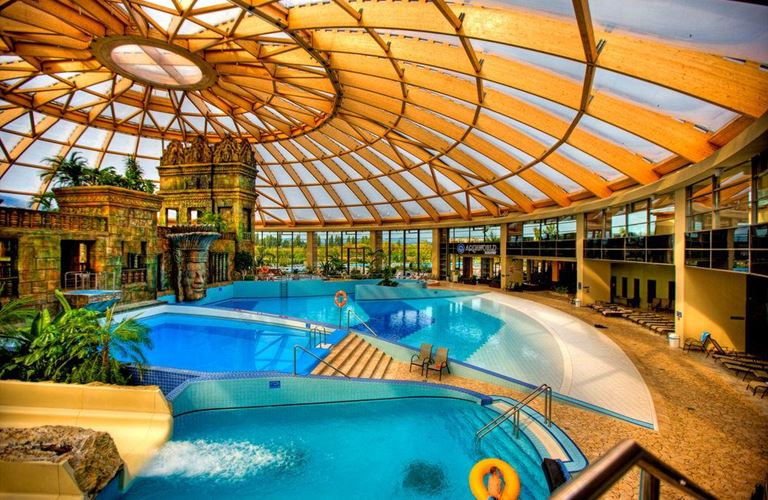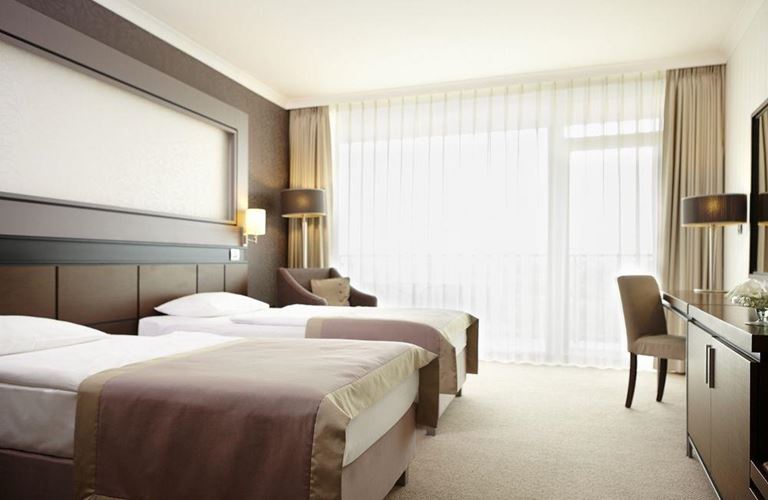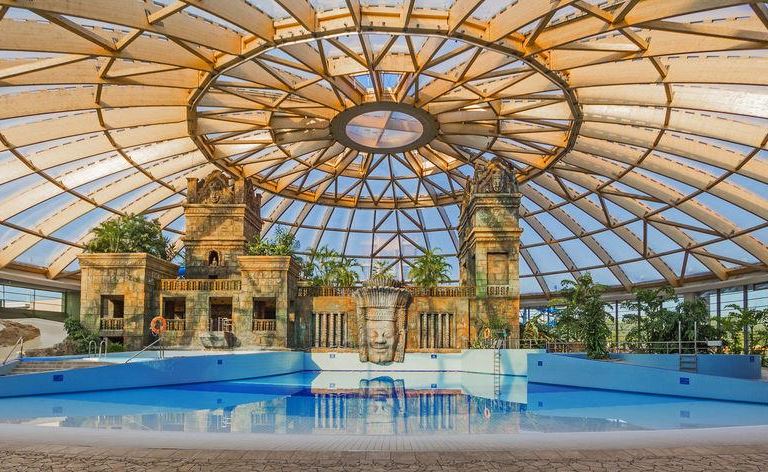 Aquaworld Resort Budapest
(Based on 6 customer reviews)
Hotel Information
OVERVIEW
The Aquaworld Resort Budapest complex occupies a total area of 86 thousand m2 and the total ground space of the buildings is 54 thousand m2.

The two parts of the aquatic complex, Aquaworld Budapest, the aquatic adventure park, and Aquaworld Resort Budapest Hotel with its own quiet bath unit, have a total of 21 pools, a total water surface area of more than 3300 m2 and a water mass of 4200 m3.

The outdoor car park and the underground car park of the Hotel together have a total capacity of more than 1000 cars.

The entire complex is equipped with a central air management system, air conditioning, a fire alarm and sprinkler system, a computer and telecommunications network and a building surveillance system, and the disabled are provided obstacle-free access to all facilities.

The karst well, of a bottom-hole temperature of 35 °C and a daily water output of 420 m3 is amply sufficient to supply the necessary quantity of water. Waste water is cleaned and made environmental friendly by an in-house cleaning system. Cleaned water is fed back partly to the garden lake and partly to the Mogyoródi stream.

Aquaworld Budapest is covered by an enormous dome, 72 m in diameter and 5-storey high; the total – unsupported – area under the dome is 4200 m2. The spherical-cap-shaped dome is constructed with a very special architectural technique developed originally in space research. It is fully transparent, protected by a multi-layer foil system, and it relies on glued wooden support structures. Hot air is circulated in two cells and the dome provides protection from ultraviolet radiation. Its internal pressure is adjusted to the weather conditions ever with the help of a control system governed by sensors. The supporting structure of the dome is made of 40m long ribs, fitted to the ring, 8m in diameter, at the top of the dome in a vault-like structure.

The maximum capacity of the Aquaworld Budapest water theme park is 1800 persons.
Aquaworld Resort Budapest Hotel includes an impressive main building, 8-storey high, with an ondulating external design, and a 4-storey Apartment House with underground connection to the main building. The Hotel has a total of 309 rooms, suites and apartments and a total capacity of 838.

In addition to the 1000 m2 conference centre located on the first floor, there is also a banquet room with terraces on the 8th floor. The premises are delimited by mobile walls, a unique arrangement in Hungary, offering the possibility of numberless variations. A maximum of 15 section rooms can be created, the biggest one with a capacity of 550, but the interconnecting premises are suitable also for hosting expositions or large-scale reception events.

The hotel conference centre has a capacity of almost 1000.
Characteristics
The Aquaworld Resort Budapest covers a total of 86,000 m2 and is divided into the Aquaword Budapest public water park and the Aquaworld Budapest hotel with its own Oriental Spa. In total, the resort has 21 pools, 11 giant slides, an aqua ball, in which to walk on water, surfing and diving possibility, a Bongo-Kinds-Club and much more.
Location / distances
Centre: Budapest 15 km; Shopping: Budapest 500 m; Railway Station: Keleti pu/ Weststation Budapest 15 km; Bus Stop: Budapest 2 km; Airport: Liszt Ferenc Budapest 25 km; Resort Altitude: 102 m; Outdoor pool/lake: via bathrobe course Ramada Aquaworld Budapest 0 m; Hotel - Miniversum (Andrássy út 12, In the ground flor of Schloss Krausz) 13,5 km, underground stations: Opera oder Deak Ferenc tér
General facilities
Reception: 24 h; Internet corner: free of charge; WLAN: free of charge; Lift; Parking: free of charge; Garage: payable on site Euro 8,-per day per car; Breakfast room; Restaurant; Bar; Café; Kiosk: in the Aquaworld; Terrace; Non-smoking property; Garden; Sunbathing area; Seminar room; Conference room; Laundry service, beauty salon, souvenir shop in the hotel and Aquaworld, doctor on call, airport shuttles on request
Additional facilities rooms
Additional cots for all roomtypes; Bath or Shower/WC; Hairdryer; Bathrobe on loan: free of charge; Slippers on loan: free of charge; Air conditioner: free of charge; Heating; Mini Bar: payable on site; Radio; Telephone; Sat TV: LCD Sat TV; WLAN: free of charge; Safe: free of charge laptop size; Non-smoking; fridge, refridgerator; room service from 6:00-22:00 hrs, from 22:00-6:00 Uhr sandwiches are available at the bar, daily room service
Room types
E1CW: 1 bed, Single, minimum occupancy 1, ~ 26-29 m²; Z3CW: 2-3 beds, bath/shower/toilet, min 2 adults, max 2 adults + 1 child (until max 6,9 years), ~ 43 m²; JS3CW: 2-3 beds, Junior Suite , minimum occupancy 2 adults + 1 child or 3 adults, ~ 43 m²; JS4CW: 2-4 beds, bath/shower/toilet, Junior-Suite, minimum occupancy 2 adults + 1 child , max 2 adults + 2 children (until max 13,9 years), ~ 43 m²
Meals
Meals included: Half-board; Welcome drink; Breakfast Buffet; Dinner buffet
The booked services begin on the day of arrival at 4.00 pm and end with breakfast on the day of departure.
Wellness
Wellnessarea: daily unlimited admission (from check-in to late check-out) in the Aquaworld water and adventure park including saunas. (Sauna for children over 14 years) Daily unlimited use of the hotel's Oriental Spa. size ~ 20.000 m²
Wellness included: Indoor pool: 17 Indoor- and Outdoor Pools, ~4.500 m²; Outdoor pool: freshwater, heated and unheated pools, ~5.000 m²; Steam bath: in the Oriental Spa & in the Aquaworld; Thermal pool; Sauna: in the Oriental Spa & in the Aquaworld; Finnish sauna: in the Oriental Spa & in the Aquaworld; Bio sauna: in the Aquaworld; Sanarium: in the Aquaworld; Infrared cabinet: in the Aquaworld; Relaxation room; kids pool, Jacuzzi; Opening hours: Aquaworld 06:00 hrs - 22:00 hrs, Hotel- Oriental Spa 07:00 hrs - 22:00 hrs, Pool is closed at 21:30 hrs
Wellness at extra charge to be paid for directly at the location: Solarium: ca. Euro 6,-/ 6 min (HUF 1.300); Beauty centre; Massages; Hamam in Oriental Spa for a fee on spot; Opening hours: Sauna Aquaworld 06:00 hrs - 22:00 hrs
Fitness / Entertainment
Fitness / Entertainment free of charge: Fitness room; 4 x daily free bus transfer from the hotel to the "Heldenplatz" in Budapest (according to timetable - information at the reception)
Fitness / Entertainment at extra charge to be paid for directly at the location: Indoor tennis court; Tennis: for a fee, payable on spot; Squash;
Computer games: payable on spot
Children
Children facilities free of charge: Cot; Children's play room; Children's playground; High chair; Child Supervision: Bongo Kids Club with professional supervision, suitable for children up to 12 years, children between 1 and 3 years only if accompanied by parents; Playroom; Animation in the Aquaworld is offered seasonally
Children facilities at extra charge to be paid for directly at the location: Children's menu: according to the menu
Pets
Euro 17,- per day payable on site without food
Miscellaneous
Credit Cards: MasterCard, Visa, American Express; Wheelchairs access: Yes; Arrival from: 3.00 pm; Departure by: 11.00 am
Facilities
---
Our customer reviews
Kelvin, Kenilworth
Checked in Mon 28 Aug 2017
Our 2 bedroom apartment was superbly spacious - ideal for families of 3 kids although it was odd to have a kettle but no coffee or tea (and no food shop on site). Breakfast offered lots of choice, staff were very friendly and the Spa was fantastic. Aquaworld itself is brilliant for adults and kids who love the water - slides, scuba lessons, swimming, dinghy rides, wave machines, Zorb balls, diving platform and I could go on!! Only negative - the cost of the restaurant evening meal is questionable for what was nice hearty food but hardly worth the price however the free shuttle bus into Budapest is handy as its a city that is great for eating out and as a cheap alternative..you can always walk to McDonald's.
---
Andrew, St. Leonards-On-Sea
Checked in Sat 12 Aug 2017
Overall a good hotel. Evening bar lady was a little miserable and grumpy though! Very useful free shuttle bus service but gets very busy and only takes 49 people at a time so need to make sure you get there early to be at front of line. Food was ok if not a little limited, however it was always only just warm. Good water park but a little too busy and some rides were closed and a lot of waiting for flume mats.