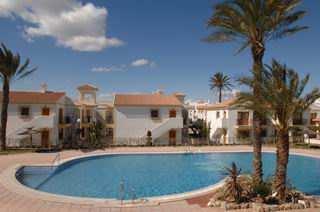 Vera Coast Apartments
We are still waiting for our first customer review!
Hotel Information
OVERVIEW
Apartments VERA COAST (1 key)Crtra. de Garrucha a Villaricos, w/n.C/Núñez de Balboa - Pueblo Laguna / Vera Coast04620 VERA Urban center – Almería Important Note: Topic: keys pick up and return back at reservation Almeria Office located in same urban sector C/ Núñez de Balboa, Local nº 14 (in front of nº 1) Keys deliver only from 17.00 hrs.to 20.00 hrs. Departure from apartment last day at 10:00 hs. Guests must know that have to contact on previous day from arrival in order to reconfirm keys pick up to Phone 902 109 900 from 10:00 to 14:00 Monday to Friday.
In case the guest cannot pick up keys during stated time, must find out if they can be received at any other time. In case of acceptance by vera coast for keys delivery the guest will pay a 15 euros extra charge (direct pay) and such keys delivery cannot be after 23:30 nor before 09:30 of following day. Pets are not allowed. Located between 200 and 250 mts.
From the beach. Provided with 2/4 and 4/6 people bedrooms, fully equipped with sheets and towels, are provided with full bathroom, some of the with shower (and cleaning in the case of two bedrooms), living room with sofa bed for 2 people, 1 or 2 bedrooms, ceiling fans in living room and bedrooms (some of them are provided with air conditioning and are confirmed upon request, consult extra charge), full kitchen (2 doors fridge or fridge under cooking top + freezer, oven, washing machine, toaster and microwave), iron, terrace chairs and table. Price includes reception cleaning, every 4 days towels change and every 8 days sheets change. Urban resort features garden areas, leisure areas with heated swimming pool, Jacuzzi and sauna (access to area with in advance direct payment), miniclub, snack bar near the swimming pool and restaurant.
Besides it is provided with 2 poems air swimming pools, being one of them open from 15June to 14September. Please reconfirm a couple of days before, your keys pick up, to the above-mentioned telephone. Key pickup: C/Núñez de Balboa, Local 14 ( Semi-Esquina C/ Juan Sebastián El Cano) Vera, Almería. Tel.
616017881. Hours: 13 to 14:00 and 17-20 h. If arriving after hours please check. Mandatory to call 48 hours before to reconfirm arrival time. If arrival
---
Our customer reviews
We are still waiting for our first customer review!