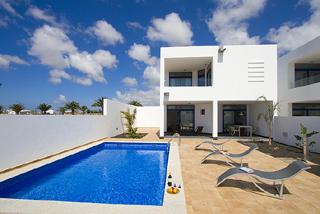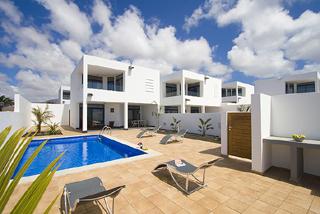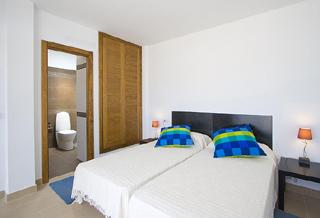 Villas De La Marina
---
Puerto del Carmen, Lanzarote
We are still waiting for our first customer review!
Hotel Information
OVERVIEW
Property Summary
Beautiful villas located just 50mts from the fabulous Rubicon Marina Harbour and the main shopping centre where you will find a variety of shops, restaurants and bars. Well furnished, these villas are modern and bright with two floors and two en-suite bathrooms. There is a fully equipped kitchen, a dining room with satellite TV and DVD, air conditioning, heating and a private pool.
Location
1. On your departure form Lanzarote airport follow the sign for Yaiza. This road will pass under a bridge. 2. Leave the slip road and move on to the dual carriageway heading south towards the village of Tias in the direction of Yaiza. Do not turn off towards Puerto del Carmen. 3. Follow he carriageway up the hill passing the small turn off for Tias and Puerto del Carmen and then move into the left hand lane as the road will soon fork. Keep left for Yaiza - do not take the right hand lane for Cornil. 4. Take the second exit(straight over) the next three roundabouts. At the 4th roundabout, take the first exit and follow signs to Playa Blanca for a further 15KM. 5. You will then come to Playa Blanca's roundabout with the petrol station in front of you. Go straight over this roundabout and straight over the second roundabout towards the shopping area of Playa Blanca. 6. At the bottom of this road you will come to a smaller roundabout - take the last turning on your right on the same road as the "Supermarket Maxcoop". 7. Continue up this road and you will pass the "Burger King" flags on your right followed by the Hotel Princesa Yaiza and Hesperia Playa Dorada on your right. 8. At the next roundabout (sign posted Marina Rubicon), turn right and then turn left into the next street. As soon as you see "Inmobiliaria Puerto Rubicon" turn left before it by a small alley way. 9. Keep going and you are already in the Calle La Calera / look for your villa number. 10. Next to the main door you will see a small black box where the key is. Please dial the code (you will be given this code and your villa number previously when contacting 0034 620899730 on arrival)and press the black button and this will release the key.
Facilities
---
Our customer reviews
We are still waiting for our first customer review!