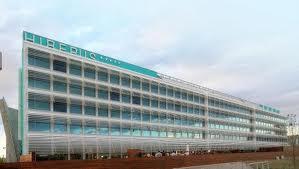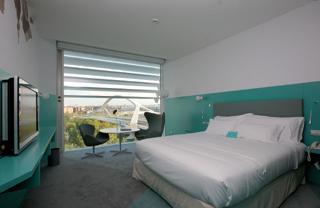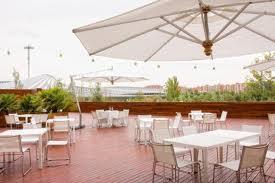 Hiberus Hotel
(Based on 6 customer reviews)
Hotel Information
OVERVIEW
The hotel Hiberus is located in Zaragoza, five minutes walking from the AVE station, near the enclosure of the International Exhibition 2008 and next to the Congresses Palace of Aragon. The hotel has 176 rooms with unique views to Ebro River. The hotel has modern facilities and is equipped with banquet and congresses rooms with capacity for more than 3,000 people. It has ample and sophisticated places and great terraces.
Parking is located in the same building with places for buses. *** RESERVATIONS WITH NON REFUNDABLE RATE DO NOT ADMIT ANY CANCELLATION. DIRECT PAYMENT WILL BE CHARGED AT THE ARRIVAL TO THE HOTEL. NO PETS ALLOWED***
Facilities
---
Our customer reviews
Harry John, Hinckley
Checked in Thu 19 Mar 2015
Our Hotel was Excellent, also the hotel staff were really great, also all the food, our suite overlooked the river and the city. Because I have a problem walking, after a operation on my Femur, the hotel manager kindly got a wheelchair for me, also the organised a taxi for us on Friday, so we could go around the city of Zaragoza. He was really trying to show us the sites of the City, and telling us in as much English as he could. The Wedding we went to was held at the Hotel, and was really excellent with organised all of the Wedding, a coach for family and friends, then cocktails then the wedding breakfast, also a Disco, the drinks and canapés. A great time was had by all. We would certainly stay at the Hiberuis again, when travelling to Zaragoza.
---
Adela, Mataró
Checked in Wed 19 Aug 2015
Buen hotel con buen bufet de desayuno y confortable piscina aunque un poco separado del centro