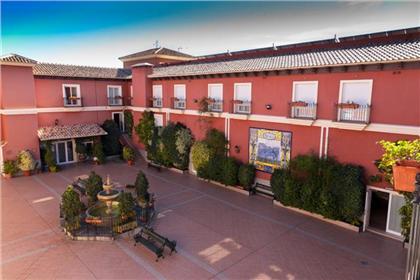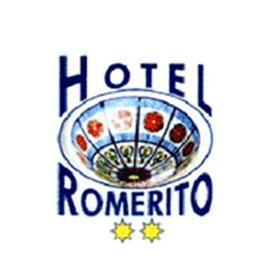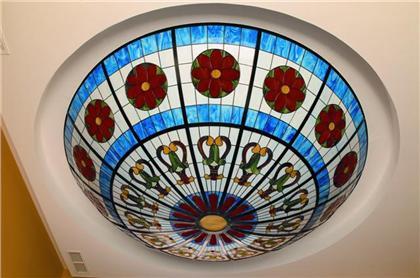 Hotel El Romerito
(Based on 5 customer reviews)
Hotel Information
OVERVIEW
A total of 76 soundproof rooms with bathroom, internet access, air conditioning and heating, telephone, TV and terrace. Facilities include function rooms, conference and meeting rooms, garage, concierge, bar, restaurant and breakfast hall. The communal areas of the hotel are adapted for disabled use.

Check-in: 14:00 to 23:30
Check-out: 07:00 to 12:00

Just 3 km from the city centre and 5 km from the beach. The city´s exhibition centre is 1 Km. away and the airport is 4 Km. away.


Facilities
---
Our customer reviews
Raymond, Nr Bath
Checked in Wed 17 May 2017
This quaint and quite charming, unpretentious **hotel is set in a bit of a commercial district, about 10-15 minutes drive by car, from Malaga airport, the same time to central Malaga. We stayed here for 3 nights last September. This year we also stayed for 3 nights. It was very clean and tidy and the front of staff, friendly and helpful. The hotel rooms are set out around a picturesque, tiled quadrangle, in its centre a delightful fountain, surrounded (in May) by beautiful flowers. You can dine here at breakfast and dinner, a very pleasant place. Because of this design, it means that most of the bedrooms face onto the surrounding roads. It was still fairly quiet, we weren't disturbed by traffic noise (room 223) and enjoyed sitting on the balcony during the evening, even if we have seen better views! The rooms are well kept and the bed was comfy. There wasn't a room safe or fridge. The bathroom had the most powerful shower I've experienced! The hotel is nicely placed for visiting Malaga, most tourist's fly in and fly out and do not appreciate what a beautiful city Malaga is. You can get into Malaga by bus, for a one-way fare of 1.30€, regardless of number of stops. We didn't recognise where we intended to get off, so we went to the end of the journey (1 ½ hours later) and paid 1.30€ to get back to the centre. A bargain compared to the price the tourist bus charges! The bus stop is down on the main on the far side of the road to the hotel. Coming back, it stops right outside the side of the hotel. Breakfast cost up to about 4.5€, you could have a cup of coffee/chocolate, orange juice and a small roll/baguette toasted, with a choice of marmalade, tomato sauce or ham and cheese. You have to pay extra if you wanted a second coffee! It was OK, if you were in a hurry! If you have the time, go to a nearby Panaderia/café. The female assistant is helpful, happy and quite gregarious. She speaks enough English to know what you would like (she has a sister that lives in Manchester). We had 2 coffees, 2 cakes and the seńora made us up 2 baguettes of ham and cheese with salad, to take away. Price? 7€. The café is 3 minutes walk away: go out the hotel's front door, turn right, walk down to the main road. Turn right and up to the zebra crossing (it is traffic light controlled). Cross the main road here and turn right, the café is 10 steps away on the corner. Dinner in the hotel, if you go half board, is from the menu del dia. 3 courses and a glass of wine. It isn't a big meal but it is nicely cooked and tasted very good. Typically Spanish; the main course is just meat or fish with a helping of French fries! They did taste good! The chef's turn out some lovely tasty meals, so I would recommend trying something off the main menu. The waiters can seem a little dour so you do need to cajole them a bit, by the second day they were fine. There is garage parking at the hotel for 5€ per night. If you decide to use the garage be warned of 2 things. 1st. As you stop at the bottom of the entry slope to press the intercom for reception, don't let the front of your car stick out past the door-frame. The garage door folds up, outwards and horizontally as it rises. It could cause a nasty dent as you scrabble to unsuccessfully find reverse gear!!! 2nd. The garage is huge a cavernous black hole, around 40-50 square metres. It is so dark in there, with one small fluorescent tube in the centre, which is totally inadequate. As you enter the garage, the door into the hotel is over on the far left wall, it is not illuminated! So drive carefully over to that side so that you can see, using your headlights. When you maybe tired and perhaps getting used to your unfamiliar hire car, be very conscious of the large concrete pillars, they will jump out and surprise you!!! We will return next year!
---
Ray, Bath
Checked in Tue 20 Sep 2016
We stayed here for 3 nights as we like visiting Malaga, it is a gem of a city that most tourists, thankfully, bypass on the way to their resort! This was a 2 star hotel. Great value. You really need a car to stay here, it's a 20 minute driveinto the city. Although on the main road opposite the side of the hotel is a bus stop into town. Right outside, next to the side of the hotel, opposite each other, is the return bus stop. We stayed B&B, breakfast for 4 Euros and under, was the choice of 4 different types of small baguettes! The dearest; Ham and cheese toasted! Tasty, came with coffee and fresh orange juice, all very good. There was no other choice! The hotel was typically Spanish design, built into a rectangle, with a large courtyard in the middle. Tiles were everywhere. Bedrooms with odd numbers faced inwards over the courtyard, evens faced roads on all 4 sides. With double glazing, it wasn't noisy. There was free street parking if you could find a space or you could park in the underground hotel car-park for the princely sum of 5 Euros per day! The rooms were very good, clean, tidy with comfy beds and good AC, we also had a huge balcony, most rooms had balconies half the size of ours. Odd number rooms had only doors onto a 2 foot wide balcony overlooking the courtyard, 2 people would fill it up! The hotel was very clean and tidy, most of the staff were helpful and friendly. The restaurant was a winner! As with a lot of restaurants in Spain, don't be fooled on first impressions! There were about 50 covers, plus tables in the courtyard. There were 2 elderly male waiters, both over 70. The first night they were a bit incommunicado, we tried to engage, they both spoke fairly good English but by the second night we were treated like old friends! The meals, although basic (they don't do veg much in Spain, chips with everything!) were simpley delicious. Whether it was meat or fish, the meals were to die for. Freshly prepared by 2 chefs. Unusually, they did meal of the day for dinner, it was superb, 3 courses and a glass of vino for the amazing price of 14Euros PP. We have stayed in far better hotels but not with such good food at such silly prices! We intend to return!